New TalkRadio/TalkTV breakfast show with Jeremy Kyle & Nicola Thorp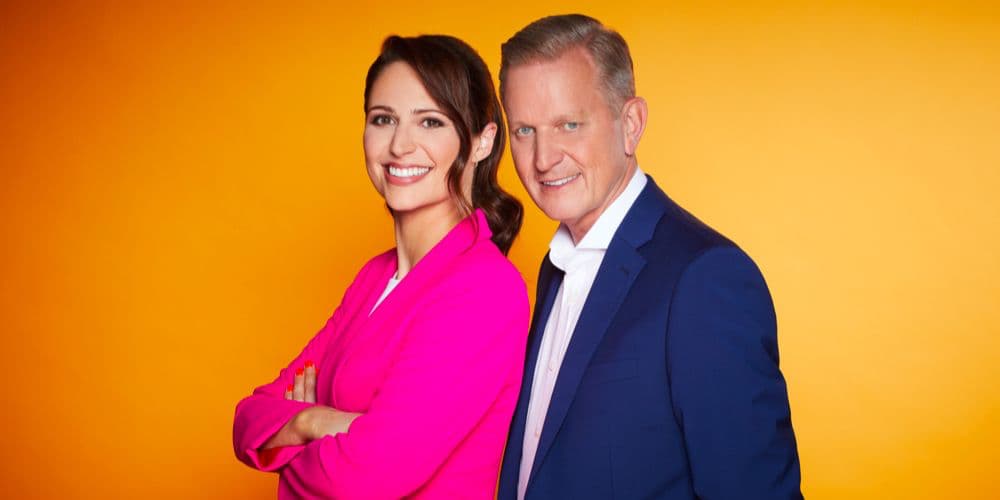 Broadcaster Jeremy Kyle is to join TV presenter and columnist Nicola Thorp for a new breakfast show on TalkRadio/TalkTV.
Launching early next month, Talk Today will be a mix of news and views, broadcast daily from 6am to 9.30am. Jeremy and Nicola will anchor the Monday to Thursday shows with hosts for Friday and the weekend to be announced shortly.
Jeremy said: "I began my career on breakfast shows, so Talk Today feels like coming home. There's something very special about being in the slot that sets the news agenda for the day. I'm hugely excited to be working with Nicola.
"We have become great pals off camera, so it'll be fantastic to bring that friendship to the show. We'll talk with the audience about the issues that affect the whole country rather than only the few. And, of course, we'll have some fun."
Nicola adds: "It's a dream come true to be co-hosting the brand-new breakfast show Talk Today. I've been part of the TalkTV family for the past 18 months, during which time I've connected with people who have challenged my opinions and taught me how to find common ground across the political divide.
"I'm looking forward to hearing from our viewers all over the UK about what matters most to them and holding politicians to account. It's important to both me and Jeremy that everyone gets a voice."
Moving from Breakfast, Julia Hartley-Brewer will host a new show from 1pm to 3pm Monday to Friday, she says: "After five and a half brilliant years hosting breakfast on Talk, I'm so excited to take on a fresh challenge with my brand new show – and to finally get a proper night's sleep!
"I plan to make afternoons on TalkTV a must-watch destination with a host of interesting guests, hot topics and great debates. And, of course, I will continue to give my honest, straight-talking, common sense."
Rosanna Lockwood, who has worked in Europe, Asia & the Middle East, will take over TalkTV's 7pm hour, she says: "It's shaping up to be a pivotal year for politics and social debate here and around the world. Bringing real perspective to the issues and stories that matter is really important for our viewers. People want to make sense of today's hyperspeed news cycle and we'll be here to help with proper analysis and thought-provoking guests."