Gangsta's Paradise voted top hip hop track in Capital XTRA poll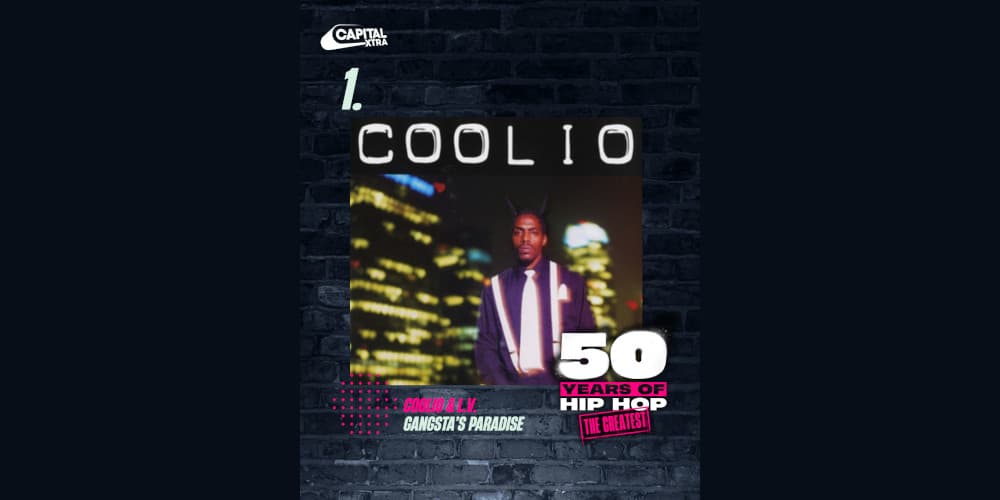 Gangsta's Paradise by Coolio (feat L.V.) has been voted the top hip hop track, according to a Capital XTRA poll.
Capital XTRA listeners were asked to vote in a poll to chart 50 of the biggest hip hop tracks in celebration of 50 years of the genre.
The top 50 tracks were played on Bank Holiday Monday in Capita XTRA's 50 Years of Hip Hop: The Greatest with Lucozade Zero. The number one track was revealed by Capital XTRA presenter Omah Howard.
Gangsta's Paradise was voted the top hip hop track, beating Ready Or Not by The Fugees (feat. Lauryn Hill) and The Real Slim Shady by Eminem. The 1995 hit featured on Coolio's second album Gangsta's Paradise and has received a number of accolades including Coolio being awarded a Grammy for Best Rap Solo Performance, MTV Video Music Award for Best Rap Video and Best Video From a Film and a Billboard Music Award for the song/album.
Capital XTRA's Omah Howard said: "To celebrate 50 years of hip hop here at Capital XTRA, we've been counting down the greatest hip hop songs of all time voted for by you!
"Everything we have played today has shaped the picture we call hip hop, every song holds a unique piece of the puzzle to fit the picture. But there has to be a number one, and it can only be Coolio and LV 'Gangsta's Paradise', the greatest hip hop song of all time, voted for by Capital XTRA listeners, announcing and it playing it gave me chills. What an incredible way to celebrate hip hop!"
You can hear the top 50 on catch-up on Global Player.