Most Streamed Christmas No. 1s revealed as Radio 2 switches on Christmas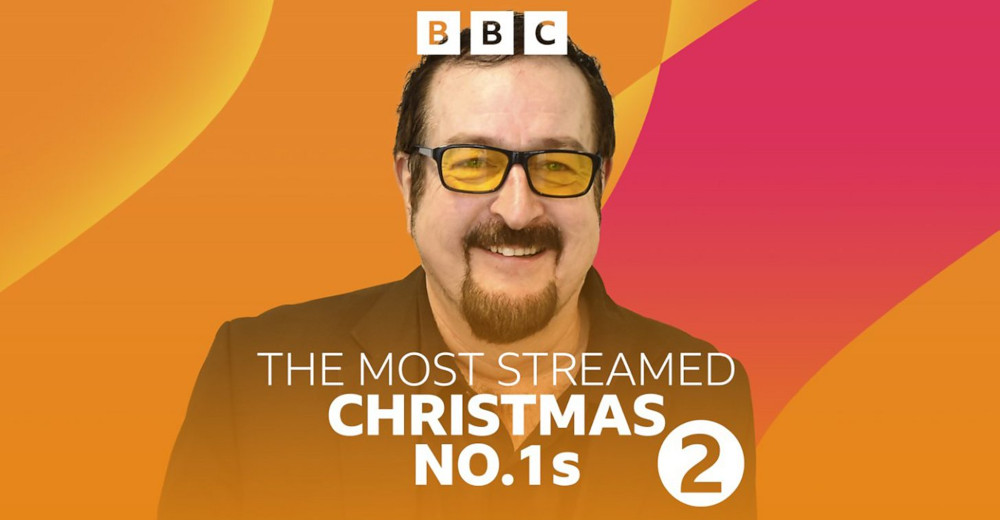 Steve Wright will count down the Top 40 chart of Most Streamed Christmas No. 1s on the station.
The chart is based on the number of times each song has been streamed, all year round, since records began.
This comes after Zoe Ball officially launched Christmas on Radio 2 during her Breakfast Show this morning, as the station started playing festive tunes.
Over the past seventy years, the race for the Christmas No. 1 spot has seen one-off novelty acts win a victory over established superstars, along with triumphs for charity tunes, reality TV newbies instantly making their mark, and even on occasion the odd festive song actually leading the charge!
Streaming now plays an important role in how we listen to music, so this chart will reflect which of the 70 Christmas Number 1s since 1952 we still want to hear.
The Top 40 songs have a combined streaming total of more than 2.25 billion audio plays, although only six of the 40 actually mention Christmas in the lyrics!
Songs featuring in the countdown do not feature anything from the first ten years of the Official Charts. Between 1952 and 1961 none have made the list and 80% of the hits have nothing to do with Christmas, including the Top 3.
Although Mull Of Kintyre by Wings was the biggest selling single during the 1970s and spent nine weeks at number one, it isn't on the list, but five other songs co-written by Sir Paul McCartney are in the chart; and five former winners of The X Factor are featured.
If you'd like to see the complete Top 40, read on:
Perfect – Ed Sheeran (2017)
Bohemian Rhapsody – Queen (1991 and again in 1995)
Rockabye – Clean Bandit featuring Sean Paul and Anne-Marie (2016)
Merry Christmas Everyone – Shakin' Stevens (1985)
Do They Know It's Christmas? – Band Aid (1984)
Merry Xmas Everybody – Slade (1973)
Don't You Want Me? – The Human League (1981)
I Will Always Love You – Whitney Houston (1992)
Killing In The Name – Rage Against the Machine (2009)
Mary's Boy Child/Oh My Lord – Boney M (1978)
Stay Another Day – East 17 (1994)
Another Brick In the Wall (Part 2) – Pink Floyd ((1979)
Lonely This Christmas – Mud (1974)
Hallelujah – Alexandra Burke (2008)
Mistletoe and Wine – Cliff Richard (1988)
Always On My Mind – Pet Shop Boys (1987)
I Want To Hold Your Hand – The Beatles (1963)
Sound of the Underground – Girls Aloud (2002)
Mad World – Michael Andrews and Gary Jules (2003)
2 Become 1 – Spice Girls (1996)
Something I Need – Ben Haenow (2014)
Return to Sender – Elvis Presley (1962)
When A Child Is Born (Soleado) – Johnny Mathis (1976)
These Are The Days Of Our Lives – Queen (1991)
Earth Song – Michael Jackson (1995)
Day Tripper – The Beatles (1965)
Green Green Grass Of Home – Tom Jones (1966)
A Moment Like This – Leona Lewis (2006)
Hello, Goodbye – The Beatles (1967)
Reet Petite – Jackie Wilson (1986)
We Can Work It Out – The Beatles (1965)
I Feel Fine – The Beatles (1964)
Somethin' Stupid – Robbie Williams and Nicole Kidman (2001)
That's My Goal – Shayne Ward (2005)
Seasons In The Sun – Westlife (1999)
When We Collide – Matt Cardle (2010)
Too Much – Spice Girls (1997)
Goodbye – Spice Girls (1998)
Only You – Flying Pickets (1983)
Saviour's Day – Cliff Richard (1990)
Steve Wright says: "Who would have thought we'd be crowning Ed Sheeran's Perfect as the Most Streamed Christmas Number 1 of all time? It's a brilliant song, but I was sure Queen's Bohemian Rhapsody would take the title.
"I would never have guessed that Perfect has been streamed almost twice as many times as Freddie and the boys' classic 1975 hit! And I didn't expect Shakin' Stevens would be ahead of Band Aid either.
"It just goes to show how fascinating it is to delve into a list like this. Listen on BBC Sounds now or tune into the show on Radio 2 this Christmas Day. It's the ultimate chart to mark the holiday season!"
Helen Thomas, Head of Radio 2, says: "Our Yuletide gift for the Radio 2 listeners is to kick off our festive tunes today, as well delivering as our Christmas Number 1 singles chart on BBC Sounds and Radio 2.
"This rundown is a brilliant trip back through the decades, with a perfect mix of the timeless Christmas tunes we love and the hits that have since become classics – it's the perfect festive soundtrack!"
Martin Talbot, Official Charts Chief Executive, says: "We are delighted to have partnered with Radio 2 to create what will be the ultimate showcase of the nation's favourite Official Christmas Number 1s – even if some of them are not particularly Christmassy! Lists like this are a fascinating reminder that the great British public know what they like, even if their choices are not always the most predictable."
Steve Wright will count down the Top 40 chart of Most Streamed Christmas No. 1s on BBC Radio 2 on Christmas Day, 4-7pm. The programme is available now on BBC Sounds.