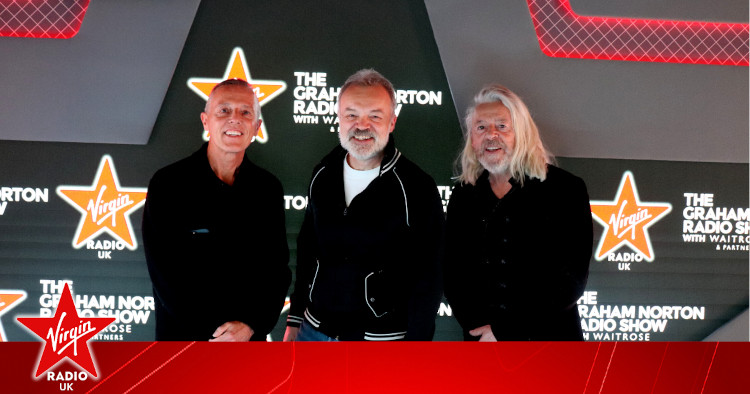 Roland Orzabal and Curt Smith have opened up on The Graham Norton Radio Show on Virgin Radio about death, therapy, spirituality and their return to the pop scene with Tears for Fears' new album, The Tipping Point.
Appearing on the show on Saturday morning (26 February), the band shared with Graham the reason why the group had taken so long to release new music, with almost eighteen-years having passed since the release of Everybody Loves a Happy Ending in 2005.
"That record didn't really set the world alight," said Roland. "But we continued to play live for many, many years. And then we went back to being dads and raising the kids and doing the school run and all that kind of stuff, in that sort of semi-retired kind of way. But eventually, we thought that we needed some new songs to play live…"
"We wanted to add some new music because we were playing the same things over and over again," continues Curt Smith. "Then we went on this strange, circuitous journey when our management and record company at the time wanted us to write and record with younger producers and drag us kicking and screaming into the 21st century. We spent a few years doing that on and off because we were still touring every year.
But at the end of it, we really didn't feel it was representative of us."
Curt explained that it was a 'back to basics' approach that reignited their love for making music together.
Much of The Tipping Point, the duo's new LP, deals with the death of Roland's wife of nearly 40-years, Caroline, in 2017.
For some time prior, Caroline had been suffering with depression and alcohol-related dementia. Following her passing, Roland suffered his own health issues and spent time in rehab, resulting in the postponement of the band's world tour. Explaining their extended absence from music making, with so much life taking place, it was no surprise that the two school friends drifted apart.
"I'm sure you've seen the new Beatles documentary Get Back?" Roland asked Graham. "You're seeing these guys in their late twenties, who are finding it very difficult to be with each other. And so you can see them all wanting to explore the world and become an individual. That's exactly what happened with Curt and I – only there weren't any cameras filming…"
The band also spoke about the influence that the American psychologist Dr. Arthur Janov's controversial 1970 book The Primal Scream. Primal Therapy: The Cure for Neurosis had on the band when they started out over forty-years-ago.
"We were introduced to it by a guitar teacher called Pauline," explained Roland, tapping into formative memory. "She was a little bit of a hippie. She put an ad in Walcot Street newsagents [in the band's home city of Bath], offering free guitar lessons to delinquent young men.
"So Curt's brother went along, and I went along, and then years later Pauline said she was going to do therapy in LA to explore some unhappiness she had about her childhood. She gave us a copy of that book and with the pair of us having come from quite difficult backgrounds – with me it was domestic violence – it was a real eureka moment. Our lives suddenly made sense. And we wrote a lot of songs about various chapters in the book. Dr. Janov was following us, secretly. When we were one of the biggest bands in the world, in 1985, he came to London and we met him. We met… God."
"But he was really disappointing," adds Curt. "He was only there because he wanted to make a musical. Primal Scream: The Musical. We thought he was this cerebral genius, but he just wanted to become big.
Curt continues; "As Roland said, our backgrounds weren't particularly happy. We both grew up with single mothers, on council estates. So we were searching for something and he provided some answers. But we went on to discover more answers. There's never just one answer…"
You can also hear Tears for Fears in conversation with Eddy Temple-Morris on a Virgin Radio Album Special tonight at 10pm.
The Graham Norton Radio Show can be heard every Saturday and Sunday from 9:30 am on Virgin Radio or you can catch up on-demand here.