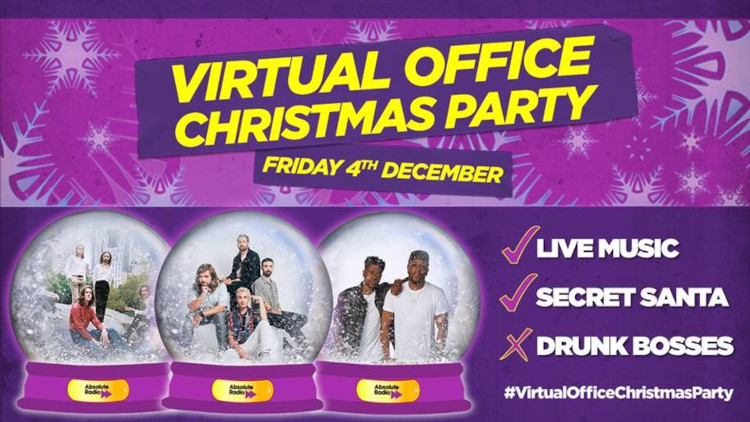 We know that Christmas is going to be very different this year, so Absolute Radio has decided to hold a day-long virtual office Christmas party on Friday 4 December with Bastille and Blossoms the headline performers.
Bastille will be performing live tracks and talking to Dave Berry on his Breakfast show while Blossoms will be joining Andy Bush and Richie Firth for Hometime. The bands will be performing a selection of their top hits and Christmas favourites.
Listeners will choose the party tracks through the day win prizes in the Secret Santa, thanks to KP Nuts.
The party will close with KISS FM stable mates the Dixon Brothers who will be doing a special Absolute 80s mix from 7pm.
Absolute Radio Breakfast host Dave Berry said "It's been a pretty rough year and with people across the UK working from home, there won't be the traditional office party this year, so we're creating a special virtual one. Thanks to Bastille, Blossoms and the Dixon Brothers for joining us in trying to bring some festive cheer to the UK."
The Absolute Radio and KP Nuts Office Christmas Party is happening 6am-8pm on Friday 4th December.
All day on Friday the 4th of December, we're bringing you the ULTIMATE Christmas Party all thanks to the guys at @KPNutsOfficial

With lots of live music from @bastilledan, @BlossomsBand, @DIXONBROS AND so much more! You won't want to miss it!

>> https://t.co/HwAziXOuW8 pic.twitter.com/l1YuNhU2el

— Absolute Radio (@absoluteradio) November 23, 2020
Excited for this!! @absoluteradio @daveberry_tweet ? https://t.co/WUqo3wTKMH pic.twitter.com/lz5RAJIv4H

— BASTILLE (@bastilledan) November 23, 2020
We'll be performing a very special live session for @absoluteradio's Virtual Office Christmas Party on Friday 4th December during @bushontheradio & @RichieFirth's Hometime show ???Full info on the day's events at the following link ? https://t.co/K5ulDYD2bt pic.twitter.com/4gDCgTtE6a

— B L O S S O M S (@BlossomsBand) November 23, 2020