Absolute Radio listeners vote Sam Fender song best of last 15 years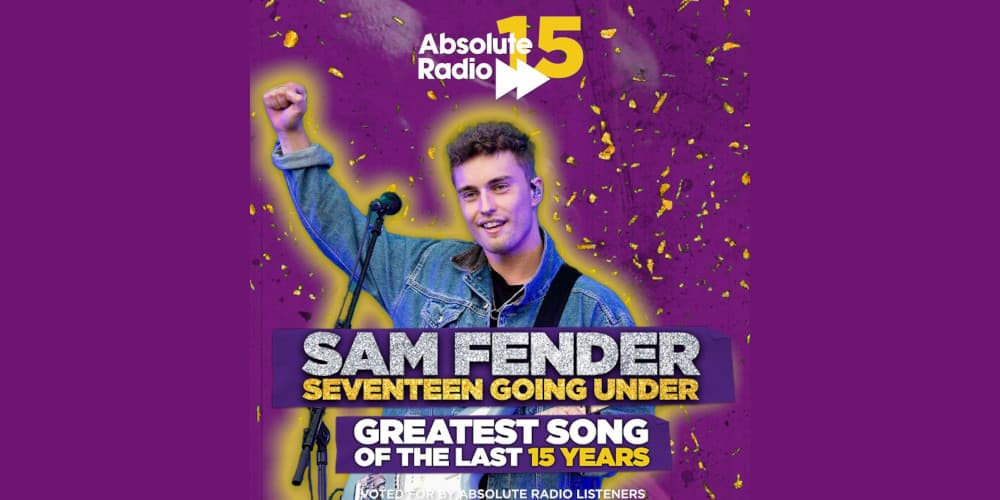 To celebrate Absolute Radio's 15th birthday this month, the station asked its listeners to have their say and vote for their favourite song of the past 15 years.
The listener poll was an open vote meaning that any song recorded between 2008 and 2023 was eligible for inclusion, and, following thousands of votes, all this week Absolute Radio has been counting down the Top 50 on a series of special shows on air.
Shortly before 2pm today (Friday 29 September), Sarah Champion and Ben Burrell revealed the Number 1 – Sam Fender's Seventeen Going Under.
Released in July 2021 as the lead single and title track of Sam's second studio album, the intensely autobiographical Seventeen Going Under is five minutes of soaring, chest-swelling guitar music.
Enthusing about his win, Sam told Absolute Radio: "Seventeen Going Under has been awarded the best song of the last 15 years! (Not sure I agree with that one lol) nevertheless I'm buzzing! That's so wild – thanks to everyone who voted. Happy 15th Birthday Absolute Radio!"
The most popular year was 2011, with 9 songs in the Top 5. It's closely followed by 2008 and 2009 with 8 tracks apiece.
Songs from 2010, 2016 and 2020 proved to be the least popular – all three years have zero tracks inside the Top 50.
Sam Fender – 'Seventeen Going Under' (2021)
Elbow – 'One Day Like This' (2008)
Muse – 'Uprising' (2009)
Foo Fighters – 'Walk' (2011)
Kings Of Leon – 'Sex On Fire' (2008)
Courteeners – 'Not Nineteen Forever' (2008)
Arctic Monkeys – 'Do I Wanna Know?' (2013)
Florence and the Machine – 'Dog Days are Over' (2008)
Hozier – 'Take Me To Church' (2013)
Wolf Alice – 'Don't Delete The Kisses' (2017)
Blur – 'The Narcissist' (2023)
The Killers – 'Human' (2008)
Biffy Clyro – 'Many of Horror' (2009)
Kasabian – 'Fire' (2009)
Disturbed – 'The Sound of Silence' (2015)
Coldplay – 'Viva La Vida' (2008)
Noel Gallagher's High Flying Birds – 'AKA…What a Life!' (2011)
Arctic Monkeys – 'R U Mine?' (2013)
Keane – 'Sovereign Light Café' (2012)
Liam Gallagher – 'Once' (2019)
Bastille – 'Pompeii' (2013)
The Killers – 'The Man' (2017)
Paolo Nutini – 'Iron Sky' (2014)
Rag'n'Bone Man – 'Human' (2017)
Wet Leg – 'Wet Dream' (2022)
Foo Fighters – 'Under You' (2023)
Stereophonics – 'Indian Summer' (2013)
Arcade Fire – 'Everything Now' (2017)
MGMT – 'Kids' (2008)
Temper Trap – 'Sweet Disposition' (2008)
Biffy Clyro – 'Mountains' (2009)
Lana Del Rey – 'Video Games' (2011)
Royal Blood – 'Figure It Out' (2014)
Adele – 'Rolling In the Deep' (2011)
Black Keys – 'Lonely Boy' (2011)
Gotye ft. Kimbra – 'Somebody That I Used To Know' (2011)
Kings Of Leon – 'Use Somebody' (2009)
Stereophonics – 'C'est La Vie' (2015)
Green Day – 'Know Your Enemy' (2009)
Imagine Dragons – 'Radioactive' (2012)
Jake Bugg – 'Lightning Bolt' (2012)
Manic Street Preachers – 'International Blue' (2018)
Paramore – 'Still Into You' (2013)
Doves – 'Kingdom of Rust' (2009)
George Ezra – 'Shotgun' (2018)
Michael Kiwanuka – 'Cold Little Heart' (2011)
Snow Patrol – 'Just Say Yes' (2009)
The Vaccines – 'If You Wanna' (2011)
Adele – 'Skyfall' (2014)
Foster The People – 'Pumped Up Kicks' (2011)