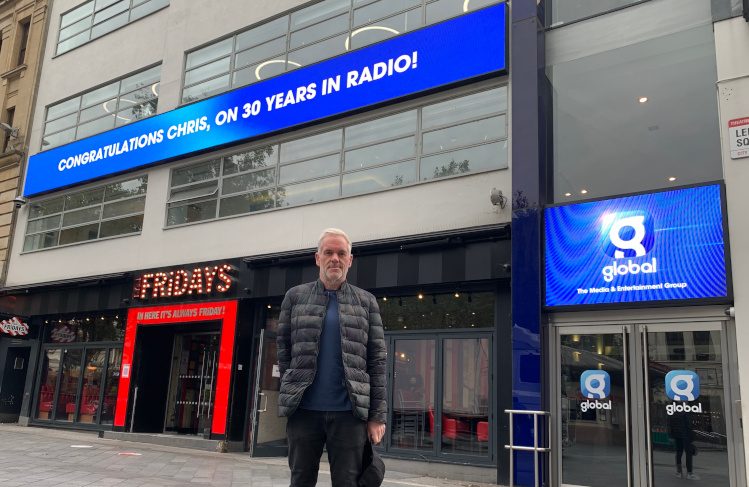 Chris Moyles celebrated 30 years in broadcasting this morning (7 October) on his Radio X show, with some broadcasting legends paying tribute as he celebrated the milestone.
He was surprised with video messages from his friends Steve Wright, Pat Sharp and Chris Tarrant, with Tony Blackburn FaceTiming him live on air.
Chris was also surprised with an engraved microphone trophy. Global's Leicester Square studios – home to Radio X where Chris hosts the breakfast show – marked Chris' three decades on air by displaying messages of congratulations on the building's screens.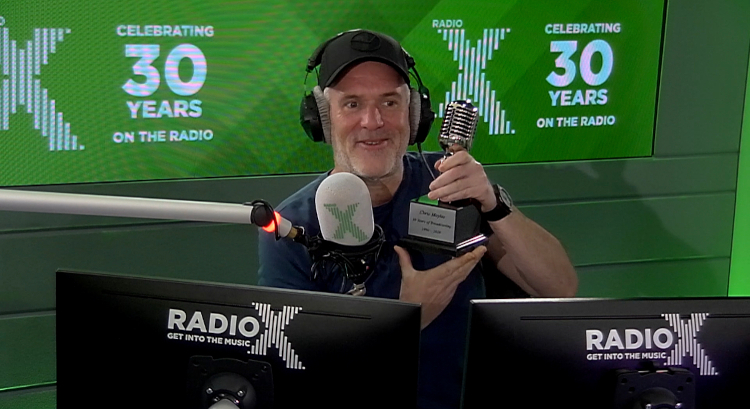 Steve Wright recounted an anecdote about his first encounter with Chris: "It must have been in the 90s, I was a consultant and I used to go around to different radio stations. I used to go around and say 'how about tweaking that show, how about doing this, how about doing that'.
"Anyway, they said 'we've got this guy Chris Moyles on the air and he talks too much and he's wild and he's crazy.' So, I had a little listen and I thought let's meet him tomorrows. And so the day came where we were going to have this meeting and I sat down and the first thing I said, I think, was 'love the show don't change a thing'."
Chris Tarrant sent congratulations, saying: "Hello Chris, this is Chris Tarrant. Congratulations mate, well done. I think 30 years is a pretty amazing achievement for consistently great radio broadcasting.
"I know I've been a bit unkind to you over the years, but I've always had a lot of respect for you. I don't really like the way everyone in the studio howls with laughter when you say things that aren't even remotely funny, but basically, you consistently entertain the nation.
"I thought you were great on 'Don't Forget Your Toothbrush'. I thought it was very sad the way your marriage to Carol McGiffin went… [he then speaks to person off camera] Chris Evans. Chris MOYLES? MOYLES?! Oh I couldn't give a **** [then quickly switches off camera]."
Pat Sharp came on by playing one of his jingles, then said: "There we are! Pippa will like that, so will Dom and hopefully one or two of the listeners, but especially for you Chris on your 30th anniversary. What a career. 30 years as The Saviour, and you continue to do so every morning and I love you loads."
Tony Blackburn wished Chris congratulations, while joking: "Very, very congratulations on your 30th! Not quite my 56 but nevertheless, 30 years, that's not bad going. And both of us have managed to just go bypass the management who haven't realised we don't really know what the hell we're doing!"
You can hear the messages in the video below and you can see Chris cringe as he hears clips from some of his early radio shows!
Today, we celebrate 30 years of @ChrisMoyles on the airwaves?? pic.twitter.com/fEIyCS9Jcl

— Radio X (@RadioX) October 7, 2020
Tune into The Chris Moyles Show on Radio X, weekdays from 6:30am – 10am and Saturdays 8am – 11am.