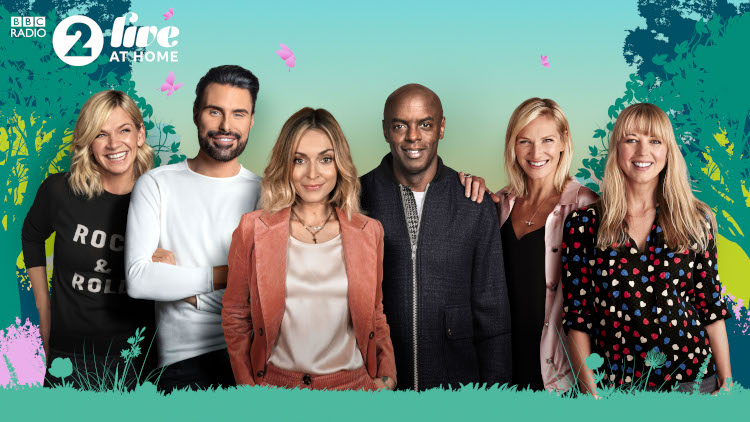 Earlier this morning (Tuesday 1 September), Zoe Ball announced on her Radio 2 Breakfast Show that Sheryl Crow, Craig David, Erasure, Sir Tom Jones, The Killers, John Legend, McFly, Gregory Porter, The Pretenders and Nile Rodgers & CHIC feat. Rebecca Ferguson will perform exclusively for Radio 2 Live at Home.
Because Proms in the Park and Radio 2 Live in Hyde Park can't go ahead due to the coronavirus pandemic, the station is creating a late summer weekend of garden party performances from musicians in the UK and the US. It will be broadcast on Saturday 12 and Sunday 13 September across radio, TV and online.
From 7-10pm on Saturday and Sunday, some of Radio 2's most familiar voices will present three hours of performances and interviews with the artists.
Some artists' performances will be recorded at their homes in America whilst all UK performances will be filmed at Radio 2's Live At Home stage in the British countryside.
All performances will be available to listen to on BBC Sounds and will also broadcast on BBC iPlayer from 8am on Saturday 12 September and available to watch for one month after transmission.
On Saturday 12 September, Jo Whiley will host Radio 2 Live at Home on Radio 2 and BBC Sounds from 7-8pm, Rylan Clark-Neal will host from 8-9pm and Fearne Cotton from 9-10pm. Saturday's show will feature music from The Pretenders, Gregory Porter, Sir Tom Jones, Nile Rodgers & CHIC featuring Rebecca Ferguson and Sheryl Crow.
On Sunday 13 September, Trevor Nelson will host on Radio 2 from 7-8pm, then Sara Cox from 8-9pm and Zoe Ball from 9-10pm. Sunday's programme will include music from McFly, John Legend, The Killers, Erasure and Craig David.
The weekend culminates with a special one hour programme on Sunday 13 September on BBC Two, presented by Jo Whiley and Trevor Nelson and featuring highlights from all Radio 2 Live at Home performances.
Sheryl Crow says: "I can't wait to play live with an audience, but for now, I'd like to welcome Radio 2 listeners to my barn in Nashville to enjoy a few songs."
Craig David says: 'Whilst we can't party in person, we can have a house party for Radio 2 Live at Home."
Andy Bell from Erasure says: "With Vince joining from New York, we're looking forward to entertaining you – each of us performing from either side of the Atlantic."
Sir Tom Jones says: "Lockdown for me has been a peaceful time spent at home but I can't wait to get back behind a microphone with my band to sing for you!"
The Killers say: "Out of the ordinary times, so we followed suit and jumped on the roof of Caesars Palace, Las Vegas to do what we do. Felt strangely natural!"
John Legend, who will be performing with the BBC Concert Orchestra, says: "I really wish I could be performing live in London and looking at thousands of smiling faces, but I'll be sending love and sunshine from my garden in LA as we perform for Radio 2 Live at Home."
McFly says: "We're thrilled to be back together making new music, so can't wait to perform together for the first time this year for Radio 2 Live at Home."
Gregory Porter, who will be performing with the BBC Concert Orchestra, says: "It's always a pleasure to perform for British audiences as the UK have always been so supportive! While there is an ocean between us, I'm looking forward to sharing a few of my favourite songs with you."
Chrissie Hynde of The Pretenders says: "After months in lockdown, come rain or shine, we are so happy to be able to perform in the glorious British outdoors for Radio 2 Live at Home!"
Nile Rodgers will be performing from Central Park with members of Chic from locations across the US and they'll be joined by Rebecca Ferguson from a British countryside location.
Nile says: "We've always loved playing for the BBC. I remember the magical atmosphere in the BBC Radio Theatre when I performed for Radio 2 In Concert in 2017, so I jumped at the chance to perform a few songs for Radio 2 Live at Home from New York City. And what a treat to be joined by the wonderful, Rebecca Ferguson."
As we can't make it to Hyde Park, we're bringing the festival to you!

Introducing Radio 2 Live at Home – a star-studded line-up, beamed direct to your living room for 30 days with @BBCiPlayer & @BBCSounds! ?

Re-live those Hyde Park sets now ? https://t.co/iKKSgyyOKw. pic.twitter.com/7HzbEfbEcv

— BBC Radio 2 (@BBCRadio2) September 1, 2020