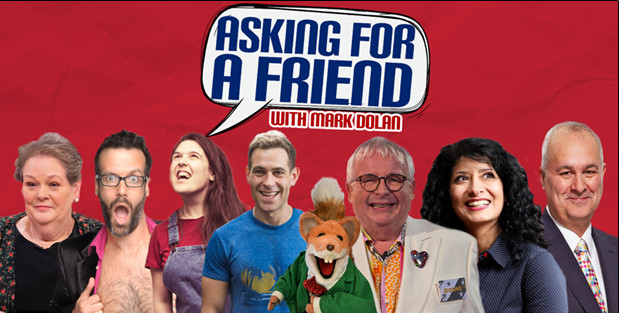 Comedian Mark Dolan, star of Channel 4's Balls of Steel is to host a new comedy panel show on national digital radio station Union Jack from this Sunday, 29 September.
The new show, Asking for a Friend, which will air at 11am, will include three guest on the panel each week including Christopher Biggins, Basil Brush and Shappi Khorsandi.
The panel will set out to answer some of life's big unanswered questions, all of which have suggested by station's audience.
Listeners should expect to hear comedic attempts at answering questions such as, "are vegans rubbish people?", "at what stage in a relationship can you fart in bed?" and "is holding a door for a women sexist?"
Asking for a Friend's Host Mark Dolan said: "I'm hugely excited about hosting Asking for a Friend and cannot wait to sink my teeth into listeners' fantastic questions, with the help of an all-star panel. Full disclosure though, the sexual questions from "Marjorie in Esher" – that's me.
"The journey to air for this idea has been incredible. As a comedian, to find a radio station that doesn't want you to just fit into their shoes, but which actually wants to hear your ideas and help shape them, and bring them to life on the radio, is just the dream.
"And that is exactly what Union JACK has done with Asking for a Friend, resulting in a show that's completely nuts, highly original, utterly hilarious and boasting some of the best names in British comedy. Roll on Sunday! No one should miss it, especially Marjorie."
The full lineup of guests on Asking for a Friend includes: Christopher Biggins, Basil Brush, Shappi Khorsandi, Iain Dale, Anne Hegerty, Marcus Brigstocke, Hal Cruttenden, Suzi Ruffell, Simon Brodkin, Geoff Lloyd, Suzi Ruffell, Konstantin Kisin, Lucie Pohl, Steve N Allen, Maria Shehata, Rosie Jones, Lauren Booth and Joe Bor.
🚨 NEW SHOW KLAXON! 🚨 #AskingForAFriend – the brand new comedy panel show that answers those questions you've never dared ask!

Hosted by comedian @mrmarkdolan and joined by a panel of celebrity 'experts'.

Starts Sunday 11am, with @IainDale @ShappiKhorsandi and @onebiggins. pic.twitter.com/GIB7PqzDS7

— Union JACK Radio 📻 (@unionjackradio) September 24, 2019