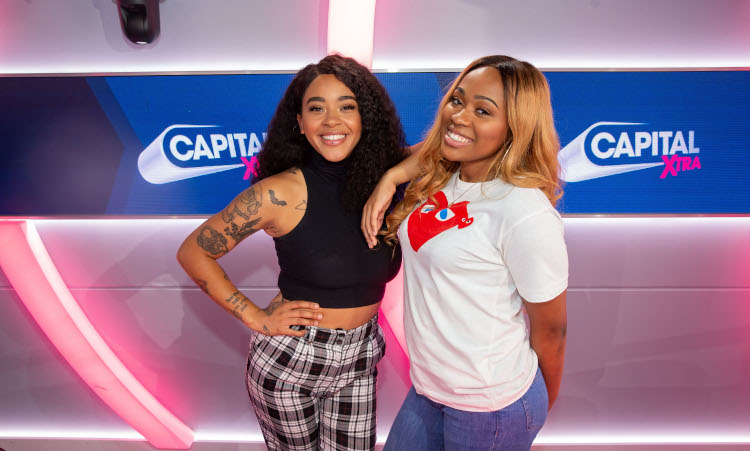 Yinka Bokinni and Shayna Marie Birch-Campbell are to replace Jez Welham on the Capital XTRA Breakfast show from 9 September.
Yinka joined the station in 2016 to host the evening show, while Shayna Marie joined in January to present a Friday night show and a Saturday morning show with Yinka.
Speaking about her new role on the Capital XTRA Breakfast show, Yinka said: "I'm proper excited to be the new host of the Capital XTRA Breakfast Show alongside Shayna Marie. It's such an honour.
"We're going to bring a really friendly energy and vibe to our new show – we want our listeners to feel like they're listening to their mates every morning.
"We'll be playing the biggest tunes, all the newest cuts, the hottest drops and the very best of Reloaded and Homegrown, supporting our own UK talent. I can't wait to get started!"
Shayna Marie said: "I'm so excited to start presenting on the Capital XTRA Breakfast Show with Yinka. This truly is a dream come true. We'll be bringing the biggest energy, best tunes and nonstop vibes! We always have such a laugh in the studio. This is going to be super-fun!"
Al Smith, Deputy Managing Editor of Capital XTRA says: "We're thrilled to confirm Yinka and Shayna Marie as the hosts of the new breakfast show on Capital XTRA. They have a brilliant chemistry and an infectious energy, and we're proud to be launching a brand new breakfast show fronted by two hugely talented rising stars."
BIG NEWS 🗣 From Monday 9th September, @YinkaBokinni and @ShaynaTMarie will be waking you lot up as the presenters of our BRAND NEW breakfast show!

You ready? Here's the lowdown. 👉 https://t.co/r9ryUdaUv8 pic.twitter.com/eocMxXAkuA

— Capital XTRA (@CapitalXTRA) August 19, 2019
In other changes to the schedule, Robert Bruce is to take over Evenings, 7pm – 10pm, Leah Davis will host of weeknights, 10pm – 1am, Chris Ros will present overnights and Jay London will host Early Breakfast.