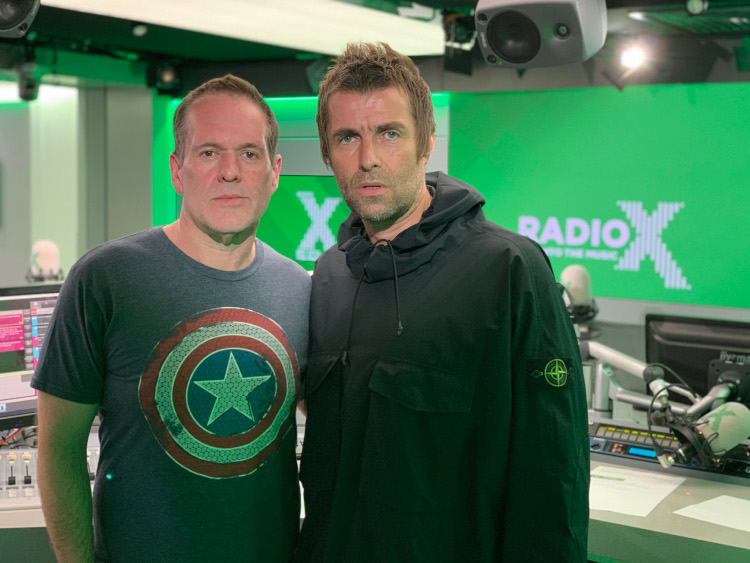 Chris Moyles had Liam Gallagher as a guest on his Radio X breakfast show this morning and he confirmed when his new album will be released.
He told Chris that there's going to be a couple more singles before the album Why Me? Why Not? comes out, but he thinks it will be released in September.
Describing what to expect from the album, Liam said there's a couple of songs like Shockwave and there's one called A River which, he said: "Is absolutely a proper beast of a tune. Don't think it'll get on the radio 'cause it's too heavy, but if someone wants to play it, play it. But that's a tune.
"It is HEA-VY. Like heavy, as in makes you wanna, it's like a bulldozer man. Heavier than that. Then there's one called 'Once' which is more of a ballad-y kind of a Pink Floyd, Bowie kind of thing which is mega.
The album also includes a track called Now That I've Found you, written for his daughter Molly, who's 22 but he only met her for the first time last year and has now developed a close bond with her.
"Not that she was lost or anything," he added, "or she was captured by the Taliban or anything like that. But it's got a 'now that you're in my life' kinda vibe. It's cool. It's nice."
Chris asked if he still drinks while on stage, Liam answered: "Just water, man, these days. I've not drank booze on stage since that famous Wembley gig. Remember that one where it all went a bit…"
He admitted that if it's a short gig he might have a little cheeky tequila just to get the party started!
Asking about past performances back in the day, Chris said: "You'd have had a couple of drinks before you went on?"
"And the rest, yeah," Liam answered, "I think as you get older though, you just can't do it can you? When you're 20 and that, you can do what you want. I used to smoke ganja on stage and everything. But now, I'd end up singing Taylor Swift songs, you know what I mean, forget what band I'm in."
The Chris Moyles Show is on Radio X, week days from 6.30am – 10am and Saturdays from 8am – 11am.