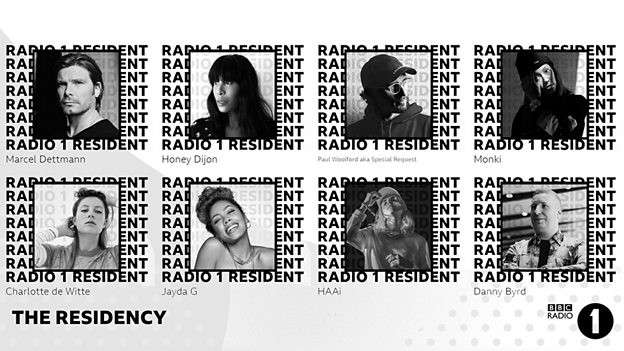 Paul Woolford, Charlotte de Witte, Honey Dijon, HAAi, Marcel Dettmann and Jayda G lead the new line-up for BBC Radio 1's Residency.
Radio 1's Residency incorporates two shows on a Sunday night into Monday morning between 1-2am and 2-3am, featuring cutting edge DJs and producers from the UK and around the world.
The new line-up will join alongside Monki and Danny Byrd, who are staying on rotation and altogether will form the Residency team from March-August 2019.
The new line-up is as follows:
First Monday of the month, beginning 4 March
Marcel Dettmann
Charlotte de Witte
Second Monday of the month, beginning 11 March
Third Monday of the month, beginning 18 March
Paul Woolford aka Special Request
HAAi
Fourth Monday of the month, beginning 25 March
Paul Woolford aka Special Request says: "As a lifelong listener of Radio 1, I am beyond buzzing to join The Residency. I'm so excited to share my record collection and shine a light on the new generation of producers that are consistently blowing my mind."
Charlotte de Witte says: "BBC Radio 1 has always showed me a lot of support since the beginning of my career, so I'm unbelievably proud to be part of the new BBC Radio 1 Residency team – it means the world to me. I can't wait to dig deep into the beautiful world of techno with you guys. Expect to hear some stripped, powerful techno, combined with some more emotional and melancholic ambient moments. We're going to start slow, build up and go hard. Looking forward to joining you on the airwaves and I promise to give you my all!"
Honey Dijon says: "I am truly honored to be given the opportunity to present my very first radio residency on BBC Radio 1. It's been an amazing journey from the south side of Chicago to the shores of the UK and I couldn't be more thrilled. If you know me then you know I don't believe great music has an expiration date. Past, present, and future all coexist harmoniously and I am super excited to share these special musical moments with you. Music is the answer."
Marcel Dettmann says: "The BBC Radio 1 Residency is a great opportunity for me to play new music and to share what I'm listening to with the public – outside of the club. Also, I am drawn to talking directly to people wherever they may be. I grew up in Eastern Germany listening to the radio – it was my gateway to the free world. That said, putting together and hosting this show is both fun and a challenge. I hope my selection and mix has a similar effect that radio had on me while growing up to be the listener and music obsessive I am today."
HAAi says: "I'm very psyched to bring a taste of my music to Radio 1's Residency. Every month I'll be taking a journey through the music I care about the most from all around the globe. I can't wait to get started."
Jayda G says: "It's so cool! I'm beside myself that I got offered such an opportunity at BBC Radio 1. I've been wanting to do a radio show for a while now and I love that I get to showcase my record collection. It's going to be fun to dig a little deeper into the songs that I love from disco to house and everything in between."
📢ANNOUNCEMENT 📢

Introducing the stellar new @BBCR1 Residency line-up starting 4th March 🙌@MarcelDettmann & @CharlottedWitte@HONEYDIJON & Jayda G@PaulWoolford & @haaidj@monki_dj & @dannybyrd remain on the rotation 🔥🔥🔥

Full info 👉 https://t.co/t7qjAwPMLn pic.twitter.com/sysBRFfhga

— Radio 1 Press Office (@BBCRadio1PR) March 1, 2019