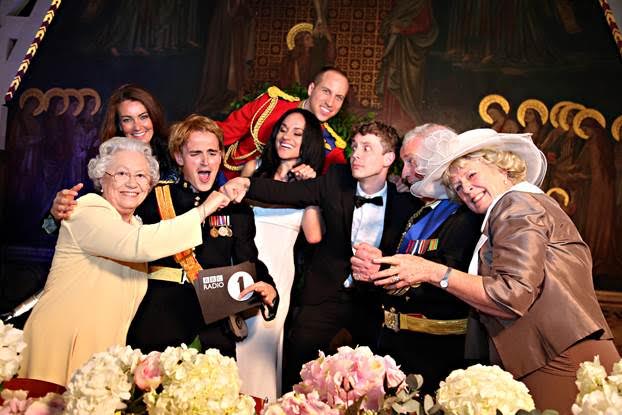 We're never going to see any of the speeches at the wedding of Prince Harry and Meghan Markle so with the help of Tom and some Royal lookalikes, Radio 1 decided to recreate the greatest wedding speech of all time.
Dressed as Prince Harry, and with 'Meghan Markle' and the rest of the 'Royal Family' in tow, McFly's Tom Fletcher has recreated his viral wedding speech video for BBC Radio 1.
With Tom's original speech amassing over 20 million views, Radio 1's spin on the video includes a recreated set, special Meghan and Harry lyrics and a school choir, all to mark Harry and Meghan's upcoming nuptials this weekend.
Watch the video below and scroll down for the lyrics!
The lyrics are:
(Obviously)
Recently I've been,
having a wedding
I've married this beaut
You'll know her from Suits
She's Meghan
I once was a rascal
Then at Windsor Castle
I kissed my bride
The nation felt pride
So thank you
From a Prince playing polo
today I wed you, because yolo.
And obviously, my Grandma's The Queen
She thinks you're a honey, and she's on the money
Because I always dreamt of finding a girl like you
Oooh oooh
I can't believe that all my dreams came true
(Star Girl)
Hey! been looking out for my Star Girl
Turns out it's Meghan Markle
And we got married today
And it was wonderful
I spent time in the army
But I was disarmed when you charmed me
I wonder how, I wonder how
Our lives together will be?
Thank you- oo-oou
You're now the wife of Prince Harry!
Thank you- oo-oou!
You're one of the Royals and that's a big deal
Thank you- oo-oou
You're Charlotte, George and Lou's Auntie
Girl I gotta tell you I feel so lucky,
The happiest heir with hair that's ginger.
(Room on the 3rd floor)
Thanks to my brother
He's like no other
Because one day he'll wear the crown
Today his job is
To give a great speech
Because I've made him my best man
And I'm sure he'll tease me, and make me feel uneasy, just please don't get to close to the bone
Because it's times like these I'd remind him that I'm still sixth in line to the throne…
(All about You)
Yesterday you asked me something I thought you knew
And today you made me smile by saying "I do"
You left me with a feeling that's just a little strange
Cos it feel like I've won gold at the Invictus games
And I will answer all your wishes, don't need to ask me to
And if you deny me one of your kisses I won't go Henry the 8th on you…
So here's my speech, but really it's just a song for you
And this one should make you smile, it's all about you.
CHILDREN'S CHOIR: It's all about you, it's all about you Meghan
CHILDREN'S CHOIR: It's all about you, it's all about you Meghan
CHILDREN'S CHOIR: It's all about you, it's all about you Meghan
CHILDREN'S CHOIR: It's all about you, it's all about you Meghan
And we'll be living at the palace,
Not just me and you
With my Dad, Camilla, Wills and Kate plus rest of the crew!
So hold me close and say those words like you used to do
Dancing on the palace tiles,
Now that we've gone down the aisle… and we said it with a smile…
Those two words "I DO!"