Ronan Keating reveals the unusual place Boyzone discussed having a break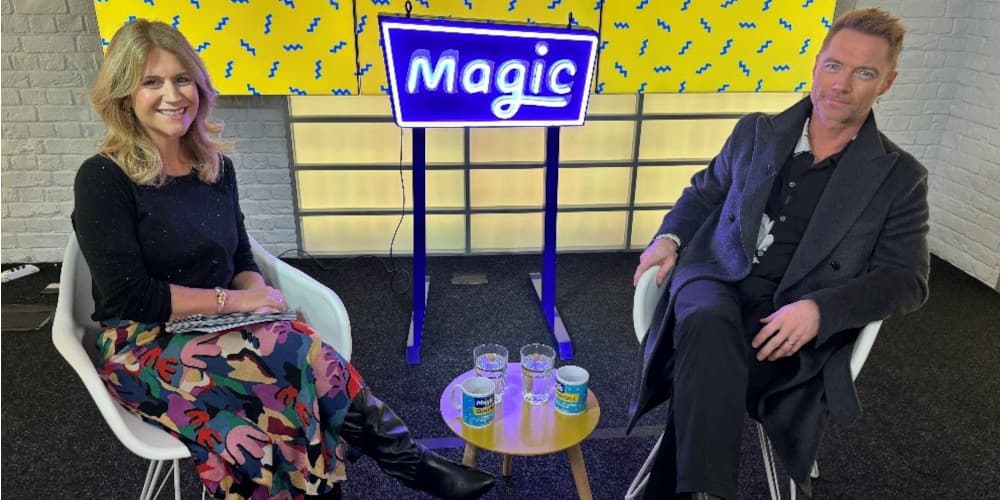 © Magic Radio
To celebrate 30 years of Boyzone, Ronan Keating sat down with his Magic Radio Breakfast co-host Harriet Scott to talk about the band.
Boyzone have sold 6 million albums and 7.8 million singles in the UK since launching in 1993. It was in 1999 they decided to have a break and Ronan revealed, they made that decision while chatting in the toilets!
"We had all decided we wanted a break from it, the pressure cooker was so intense," Ronan told Harriet.
"After six years of being on everyone else's schedule, on that conveyor belt, we all wanted a break. I remember being in Holland doing a big press launch or album launch and we all took a break away from it.
"Again, we are back in the toilets. It's the only place we all had space away from everyone and we were chatting… we had the meeting in the toilet that we were going to take a break. The five of us agreed it," he said.
Ronan admitted that the band's break was longer than expected because of his solo success. "We had made a plan to take a break," he explained. "The break led to a seven-year break up because of my choices. I was riding a solo wave, and it was incredibly important to me."
They got back together in 2007 but when Stephen Gatley died in 2009, Ronan thought that would be the end for Boyzone.
"For me that was the end of the band all together and we probably should have just called it a day then, but we thought the right thing to do was to carry on in Stephen's memory. For me a mistake. The band never felt the same again. It always felt like something was missing," he explained.
Stephen was just 33 years old when he passed away, and Ronan admitted it was tough losing him at such a young age. "What makes me sad and hurt more than anything is he had so much living to do, and he had so much to enjoy.
He explained that something which stays with him more than anything is that Stephen really loved Disney and he was really excited about seeing The Princess and the Frog, and he never got to see it.
"The movie came out a couple of weeks after he passed away and I couldn't watch the movie. I still haven't been able to watch it to this day… none of us have gotten over it but at least we have the songs," Ronan told Harriet.