"I've been thrown out of David Bowie's toilet," says Richard Osman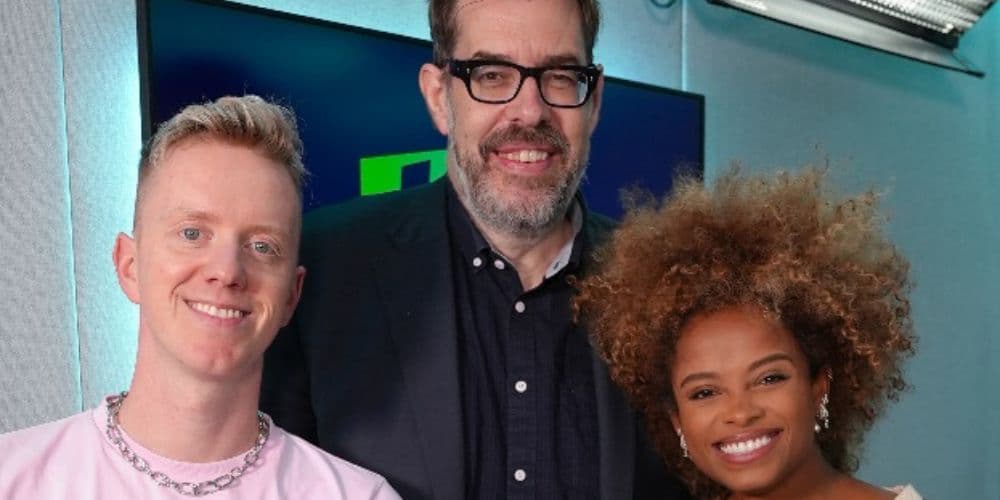 Richard Osman joined Fleur East and co-hosts James and Matt on Hits Radio Breakfast this morning where he told an interesting David Bowie story!
The Pointless star was on the show ahead of the launch of the latest book in his Thursday Murder Club series – The Last Devil to Die.
As Richard chatted away about the novels – "it's like The A-Team but they're in their 80s" – he revealed that filming of the first book, directed by Steven Spielberg, is currently suspended because of the actor's strike in Hollywood. He also discussed what it was like to have a famous brother – Mat Osman is the bass player in rock band Suede.
"He's very cool my brother and I've never been cool, so I've never competed with him in that way," he said. "I never wanted to be a pop star, I don't have it in me. So, for me when they were getting absolutely massive, I'd be out in Barcelona watching them on stage and I'd be standing next to David Bowie and I'd be going 'whoa this is absolutely nuts'," he added.
But meeting Bowie backstage wasn't the only time that Richard got up close and personal with him.
"I once got thrown out of his toilet as well," he revealed. "It was backstage at the same festival and I thought 'oh that's nice there's a little secluded loo' – you know what loos are like at festivals even backstage they're pretty grim – but there was a really lovely loo available with quilted loo roll, carpeted floors and walls, it was beautiful, so I went in and then I just heard knocking on the door and a voice say 'Please, please leave Mr Bowie's toilet'."
The author also revealed that writing was now his favourite thing to do, "it's the thing that represents me most," he said. "And people ask when I find the time to write, but the truth is I don't do much! I do House of Games and that's half an hour a day… I only write for two or three hours a day and I'm really focused, phone off, but after that my brain is gone!"
Listen to Fleur East, James and Matt on The Hits Radio Breakfast Show at hitsradio.co.uk