Which Take That song is voted the best by Radio 2 listeners?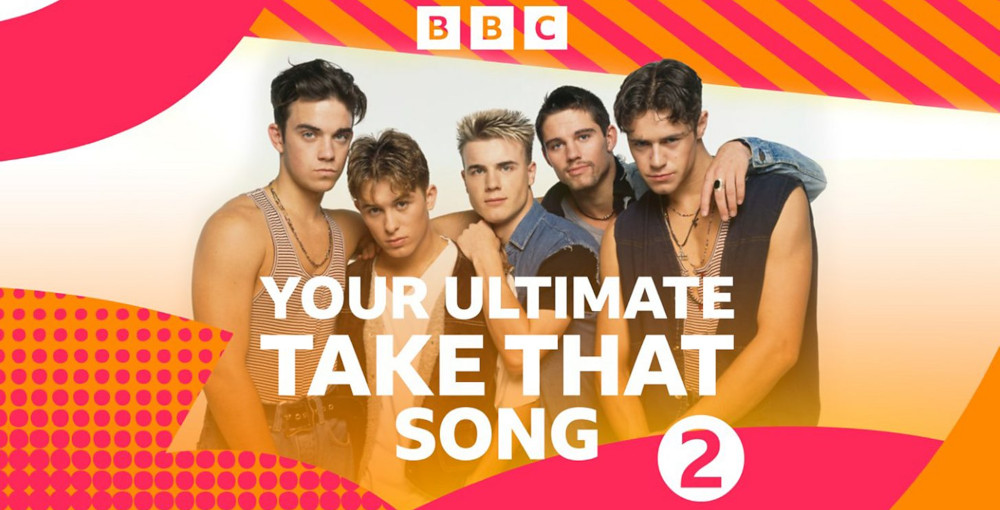 BBC Radio 2 listeners have been voting for their favourite Take That song, with the results compiled for a special show on the station today.
Listeners were asked to vote for up to three of their favourite songs taken from band's Top 75 UK chart singles.
From 1-3pm, The Ultimate Take That Song hosted live by Cat Deeley will count down the Top 30 and feature the band in new and archive interviews, plus fans also talk about their favourite Take That songs.
The online vote revealed Never Forget as the listeners' favourite, with Back For Good as the runner-up in second place. Rule the World in third place, with Shine in fourth, and Greatest Day in fifth. place.
In the programme, Mark Owen says: "Never Forget would be up there on my list. It's the arms, it's the story of the band, it's always such a special moment when you see it with a crowd because everyone can join in and be a part of it.
"Howard sings beautifully on this; he does an amazing vocal on it. It just all came together, and it was one of the only times where we all sang a line each… it's a majestic song and beautiful, from the boys choir from the start to the full gospel choir at the end. Never Forget is a journey, it is within the song, and it has been for us in our lifetimes."
Gary Barlow adds: "[Never Forget] wasn't born with this huge chorus the way it sounded on the single. Even the demo was quite laidback, and it wasn't until it went to Jim Steinman's studio in New York that it started to get the drama of something that would end a concert.
"When it came back from him, I thought, 'Well, there's the encore right there'. I could see everyone in the audience singing this song… Within a couple of nights, the crowd had got the hang of putting their arms in the air every time you sing a 'Never'. That is pretty much how we perform it to this day.
"I don't believe we've ever dared leave it out of a set list once. Why would you? It's always a real pleasure to perform this song. I'm so glad that people, after all these years, still hold it so close to their hearts, so thank you everyone."
Cat Deeley says: "What a marvellous result! Never Forget is one of my all-time favourite Take That tunes so I'm especially thrilled to be announcing it as the winner of Radio 2's listener vote in The Ultimate Take That Song. And what better way to ring in 2023 than by revisiting Take That's best loved music? It's a glorious start to the year."
The Top 10, as voted by Radio 2 listeners:
Never Forget (Aug, 1995)
Back For Good (Apr, 1995)
Rule The World (Oct, 2007)
Shine (Feb, 2007)
Greatest Day (Dec, 2008)
A Million Love Songs (Oct, 1992)
Patience (Nov, 2006)
Pray (Jul, 1993)
The Flood (Nov, 2010)
Relight My Fire featuring Lulu (Oct, 1993)
The full Top 30 will air on BBC Radio 2 from 1pm today – New Year's Day and will also be available on BBC Sounds for 30 days from 3pm.