Sam Smith, Olly Murs and more play Hits Radio Live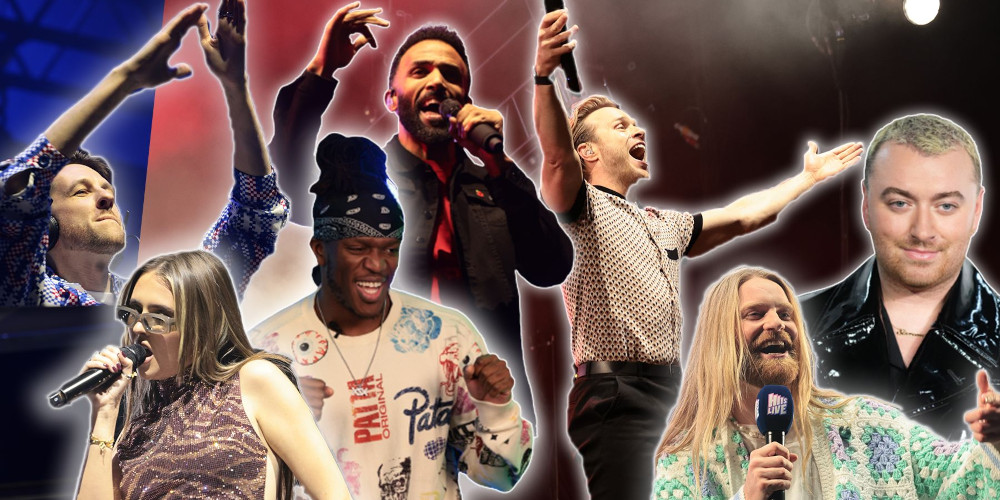 The stars were out last night at Manchester's AO Arena for Hits Radio Live.
Olly Murs kicked off the evening, before Space Man Sam Ryder joined Sigala on stage for a surprise performance of the hit Living Without You. Then Sigala continued with Talia Mar as the pair performed Stay the Night.
Sam Ryder also had a surprise for 10-year-old Charlie Kettle who had a birthday he won't forget after the Eurovision star sang a huge rendition of 'Happy Birthday' to him.
Mimi Webb rocked the stage in leather trousers and snakeskin sequin top before KSI broke into his set to jump into the crowd and take his Be Real before bringing fellow YouTuber Speed on stage.
Tom Grennan opened the second half of the show, followed by Craig David, who had the crowd on their feet with a TS5 party.
A high-energy, dance filled performance from Tate McRae was the lead in to headline act Sam Smith who closed the show with hits including Stay with Me and latest hit Unholy.
Show opener Olly spoke to Hits Radio Drivetime hosts Gemma Atkinson and Mike Toolan  just before he went on stage and told them why he won't ask fellow Voice judge Sir Tom Jones for his number: "I hate asking people for their numbers especially when you're working with them and especially when it's Sir Tom Jones!
"If I had it, I know if I was drunk on a night out, I'd be ringing it! When I met Jennifer Hudson doing The Voice, I asked her for her number and then I'm in Sheesh in Essex, off my nut, and Spotlight came on.
"I was like 'I'm going to ring Jen' and I sent her a video message of me singing and she was like 'Oh Olly are you drinking?' Can't do that with Sir Tom! Can you imagine?," he added.
YouTube star KSI revealed to Hits Radio presenter Tom Green which celebs had hit him up for a secret supply of Prime: "Literally no one can get it! It's actually cool though because I'm getting a load of celebrities with kids being like 'yo, could you sort me out?' I had Wayne Rooney hit me up and I was like 'what? Wayne Rooney?
"I kept it cool, but I was gassed internally. Stacey Solomon as well! They're like 'We can't find Prime' and I was like 'I got you, I got you'."
Away from music, Craig David spoke about writing his new book: "It was really cathartic… to lean into mental health and depression and lack of boundaries, saying yes when you really meant no and being a people pleaser, impostor syndrome; so many things that were just a human-to-human connection that I felt if I spoke about that, that is something that can hopefully help people and that's a book that's worthwhile to make," he said.
For Sam Smith, Unholy has gone viral on TikTok, making the singer love the social media platform: "I am enjoying TikTok it's an authentic relationship – at first I was like I can't do this but then I got cheesy and it's fun,"
Tom Grennan revealed that he's looking forward to his Christmas break: "I'm going to celebrate by going to the darts! I went for the first-time last year and it was so funny watching so many people dressed up and off their heads," he joked.
Tate McRae spoke about how she copes with her new-found fame, she said: "LA is filled with famous people – like no one really cares. There are so many people trying to do the same thing, so you can do whatever there and no-one cares. I also don't really leave my house!"
Mimi Webb shared her plans for after the show: "I haven't seen Tate for ages, in fact I haven't seen her since we toured together so I think she wants to do something after the gig, so maybe a little drink," she admitted.
Hits Live Manchester will return on Saturday 25 November 2023. Early bird tickets are on sale now from Ticketmaster.