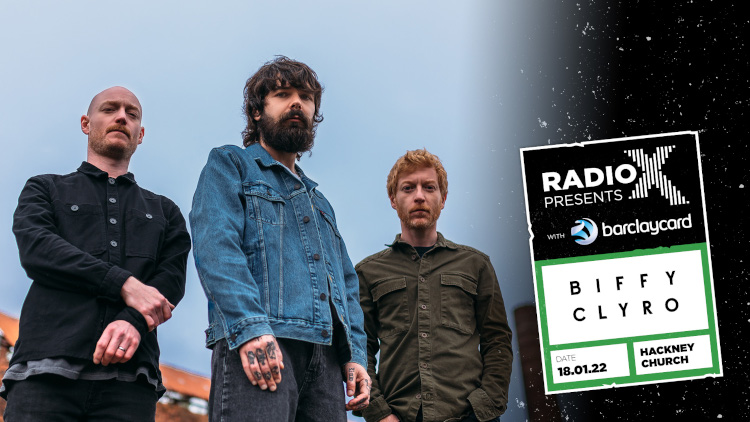 Biffy Clyro will kick off 2022 with an exclusive acoustic gig for Radio X at Hackney Church in East London on Tuesday 18 January, just before the band begin their rescheduled European Tour.
Radio X Presents Biffy Clyro with Barclaycard will be hosted by presenter Toby Tarrant.
Scottish alt rock giants Biffy Clyro released their latest album in October, The Myth of The Happily Ever After, a homegrown project that represents a rapid emotional response to the turmoil of the previous year.
The Myth… followed the band's internationally acclaimed and third UK number one record A Celebration of Endings, released in 2020.
This year, Biffy received their third BRIT nomination for British Group and headlined Reading & Leeds Festivals for the third time.
In what will be one of the first live performances of tracks from The Myth of The Happily Ever After, the intimate acoustic gig will see the band in a unique, stripped back setting following a summer of large-scale outdoor shows and autumn's intimate Fingers Crossed Tour.
Speaking about how much the gig means to the band, Biffy Clyro's Simon Neil said: "We're delighted to be playing an acoustic show for Radio X in Hackney Church… a special venue for a special show."
Radio X Managing Editor, Matt Deverson said: "Biffy Clyro have produced incredible albums over the pandemic, essentially documenting the emotional turmoil that we have all been a part of, so it's an incredibly fitting way to start 2022 for Radio X, with a return to live music featuring one of the most exciting bands around. Thanks to our partners at Barclaycard, we're able to bring this special gig to fans and our listeners."
Tickets for the exclusive gig go on sale this Friday, 17 December at 9am via Global Player.
Highlights from the show will be available exclusively on Global Player and across Radio X social platforms, from Sunday 23 January.