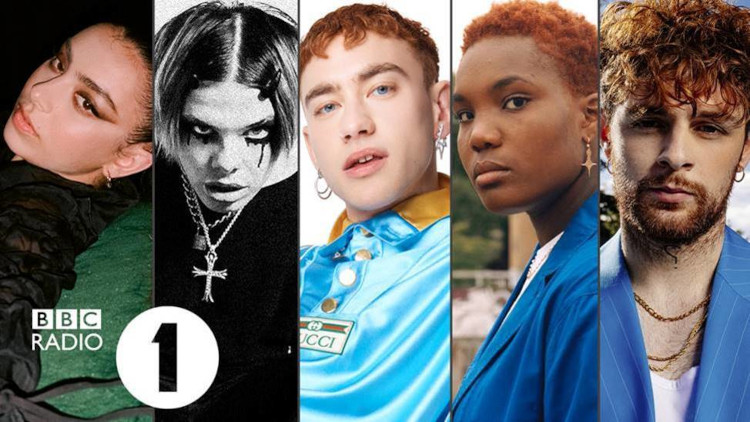 A line-up of superstar guests will each host BBC Radio 1's Future Sounds this August after Annie Mac presents her final show next Friday, 30 July.
In April, the station announced Clara Amfo as the brand-new presenter of its flagship new music show, Radio 1's Future Sounds (Monday – Thursday, 6pm- 8pm), beginning on Monday 6 September.
Before Clara takes over the decks from Annie Mac, Charli XCX, YUNGBLUD, Olly Alexander, Arlo Parks and Tom Grennan will each host a week of their very own Future Sounds show, from Monday 2 August, sharing their favourite tracks and artists with listeners and fans.
Winner of the Variety Hitmakers award for 'Innovator of Pop', Charli XCX says: "I'm so excited to take over Future Sounds for the week and play the music that has shaped me and will hopefully shape the future. I have some big shoes to fill, I'll miss you Annie!"
Hailed by Rolling Stone as a 'pop-punk rebel on a mission', YUNGBLUD says: "It's a complete dream come true to be takin over Radio 1 for a full week! I mean, it's gonna be completely off the rails … someone better bring a fire extinguisher!!! To be a radio DJ is something I've always wanted to do. To play music and connect to people means everything to me. I have so many surprises for you all. tune in. It's gonna be loud!!!"
Multi-platinum singer and actor, Olly Alexander says: "I've grown up listening to Radio 1 and this show, so I'm really honoured to be filling the legendary Annie Mac's shoes for a week! As a guest host I'll be doing the most to keep the nation entertained, my broadcast experience may be small but my love for radio is huge! I'm very much looking forward to this and to learning some new skills, it's going to be so fun!"
Musician, poet and winner of 'Best New Artist' at last year's BRIT's, Arlo Parks says: "I'm so thrilled to have been picked to takeover BBC Radio 1 Future Sounds as a guest DJ! Curation has always been a passion of mine and it's an honour to be paying tribute to Annie's legacy as a nurturing force for new artists."
Nominated for awards such as 'Emerging Artist Of The Year' at the 2019 Pop Awards, Tom Grennan says: "Wow what a honour. The imposter syndrome is in overdrive! Annie's show means so much to me as it was integral in launching my career. I was just a nobody in the world of music trying to make my way and have my voice and stories heard and it gave me a lifeline, confidence and belief in myself and was good enough to back me and I'll be forever grateful for that. She's a legend in the game and I'm looking forward to see what she's doing in the future. So for a week I'm in the BBC Radio 1 hottest of the hot seats playing you new tunes that I'm liking along with a load of your favourites and keeping this seat warm for my good pal Clara Amfo. So join me, and in the words of Pete Tong WE CONTINUE. Tom xx"
Radio 1 will also invite a selection of renowned DJs to take over Radio 1's Dance Party on Friday's for four weeks before Danny Howard takes over the reins on Friday 10 September. Confirmed DJs include Jodie Harsh, Jax Jones, Eats Everything and Franky Wah.