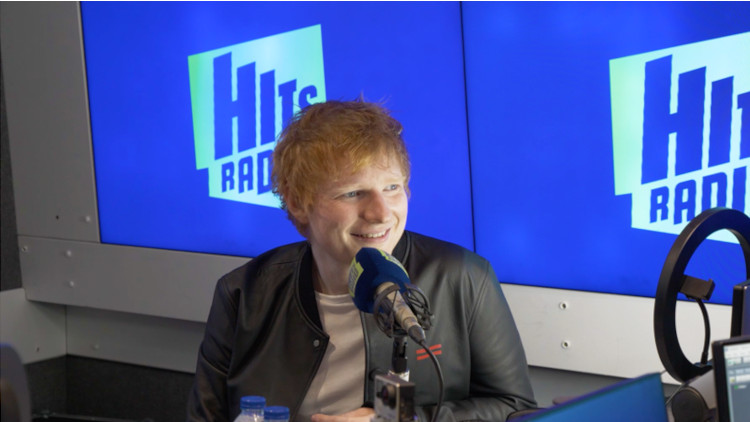 Ed Sheeran joined Fleur East on The Hits Radio Breakfast Show, discussing his new single as well as spilling the beans on what life is like now he's become a dad and revealed who his daughter Lyra's godfather is.
Ed told Fleur that he wrote his new single Bad Habits with his best friend Johnny McDaid of Snow Patrol – they also wrote Shape of You together too. He also said that he's the one who introduced Johnny to Courtney Cox nine years ago. Ed is a friend of Courtney and said: "She just invited me round her house, and I just kept going round and then one day I brought Johnny and he didn't come home!"
Ed added: "He's also godfather to Lyra, but yeah I introduced them like nine years ago."
Becoming a dad is has meant a big change for Ed, but it's something he's loving: "It's just new responsibilities isn't it? It's less selfish," he says, "You know… If I have like a night out with my mates now it's like planned, and we do it like properly, rather than just having like random spur of the moment thing.
"But yeah she's great, she's ten months now, almost walking and it's the best. It's the best… It's definitely a shift, you have to completely change your life but it is the best thing that I've ever done," he adds.
There have been rumours that Lyra's middle name is 'Antarctica' due to where she was conceived, but Ed explained that it was just something they wanted to do: "Yeah it was just something we wanted to have in her name.
"I know people see it as a weird thing, but like… I mean it's less about where she was made and more about it being special. I just wanted to have a connection to it … I understand it's like awkward for kids to grow up and then she'll like watch this interview and be 'eww'."
Elton John is a good friend and Ed revealed: "As soon as I became a dad, 'cause he's a dad as well he rung me so much to check up on me and I had a friend pass away in March that he knew as well, so he was ringing to check up on me. He's great."
He still gets Ed's name wrong: "I'm forever Ed Sherran to him," he joked.
During lockdown Ed became good friends with Lewis Capaldi, spending a lot of time on the phone to him, he admitted: "He reminds me so much of myself on my first album… I know how much pressure he's putting on himself and the label's putting on him, and everyone else in the world on his second album."
He says they had long chats about life, and they even wrote a song together, which he thinks is pretty good. It won't be one that he records but says he doesn't know if Lewis will.
Fleur East is on The Hits Radio Breakfast Show every weekday morning from 6-10am.