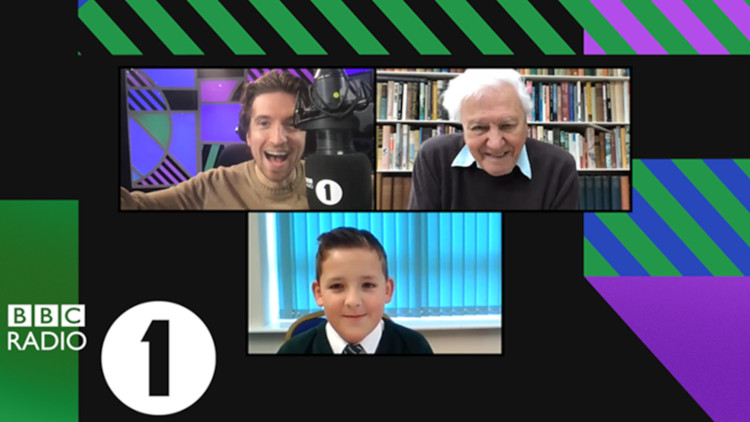 Sir David Attenborough joined Greg James on Radio 1 Breakfast this morning where he spoke to young listener Harry about the first time he was charged by an elephant, how he keeps up with receiving 70 letters a day, and why he won't return to Instagram.
Greg introduced Sir David to Harry, who said he and his class were studying his life – Sir David remarked: "How painful!"
During the conversation, Sir David was talking about when he first started in television and Greg reminded him that he'd just started in the new television – Instagram.
Sir David replied: "I'm so old I can't get used to all these new media, but I was persuaded to do so in order to do a message about conservation.
"So, for a limited period of time I contributed to Instagram but I'm off now. I'm not on it anymore and I don't intend to go back.
"I've got enough problems with post. I get 70 letters a day! I do my very best [to respond to them all]. Sometimes people, mercifully, don't actually put their address on because people are so unaccustomed to sending letters!"
He ended up working in television after being turned down for a radio job at the BBC. He was asked if he'd like to be interviewed for "this new thing which is only just starting, it's called television in which people can actually see you when you talk."
Sir David got the job but says: "Oddly enough, there weren't all that many people who were interested in it because it didn't seem sensible. How can you see pictures through the air?!"
He also spoke to Greg and Harry about the first time he charged by an elephant, saying he was really frightened by it and he also gave some advice for those wanting to help prevent climate change, which included not wasting food, electricity, gas or paper.
"All those things make demands on the planet and if we all lived more economically the world would be a much better place," Sir David added.
You can hear the full interview on BBC Sounds and the Radio 1 YouTube channel.