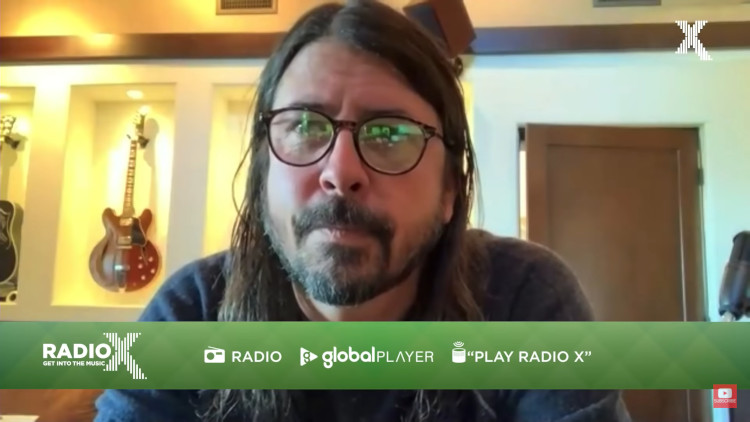 Dave Grohl was a guest on The Radio X Evening Show with George Godfrey last night where he spoke about the Foo Fighters' new album Medicine At Midnight and how lockdown freaked him out at first.
Speaking with George, Dave explained that he was nervous when everything shut down in March because he's a creatively restless person and is used to working with his band.
He says: "Like every day for the past two decades, there's not a day that goes by where I'm not doing something that's band related, so when it all stopped it really kind of freaked me out.
"I wasn't sure what I was going to do so I started writing… Not music, I just started writing stories, true stories, short stories from over the years."
Because there's no "normal" at the moment, Dave says: "You have to create a new normal and I think that's good for everybody's creative muscles, you know? Just to think of things to do to make you feel happiness and joy or alive or whatever it is."
That's one of the reasons why he wanted to get the new album released. He says because the band can't tour at the moment, it's one of the ways to bring joy with their music, to let people bounce around on Saturday night in the kitchen with a bottle of wine.
"If that's what it's gotta be, then that's what it's gotta be and that's what we're supposed to do. So I'd say dance in your kitchen with a bottle of wine. I think that's what you're supposed to do right now," he said!
Dave also spoke about walking his cat on a lead every morning, the time David Bowie told him to f-off and reveals the worst thing he's ever seen in the back of a tour van.
You can see the full interview here.
Dave Grohl tells us what to expect from the new @foofighters album Medicine At Midnight ? pic.twitter.com/8vMpzp9phU

— Radio X (@RadioX) November 9, 2020
Tune into the Radio X Evening Show with George Godfrey, Mon – Thu 7pm-10pm.