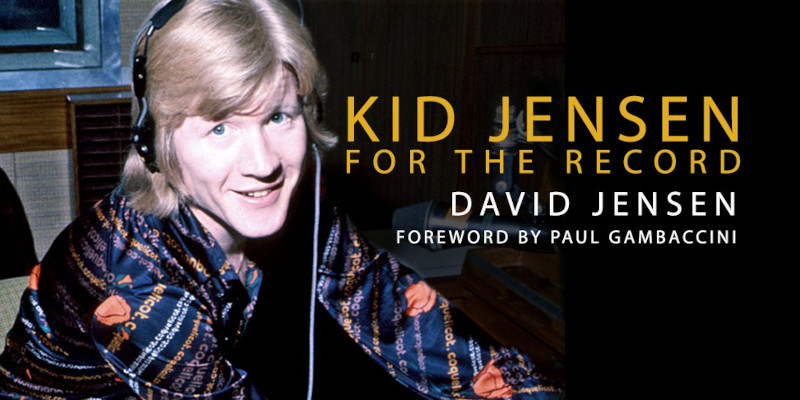 A new autobiography from David 'Kid' Jensen, due for release later this year, is rich with personal stories of the true greats, from Paul McCartney, to Freddie Mercury and Michael Jackson.
David, or "The Kid" as he was nicknamed as a very young broadcaster, is one of the biggest names in radio through the 1970s, 80s and 90s on Radio Luxembourg, BBC Radio 1 and Capital Radio.
Born in Canada, David began his broadcasting career at the age of 16 in his home country, before moving to Radio Luxembourg in 1968 when he was 18.
In his new book, Kid Jensen: For the Record, David shares how much he wanted to come to Britain as a teenager and how he felt arriving in London in the swinging 60s. He talks about the comradeship he felt at Radio Luxembourg and how helpful fellow DJ Paul Burnett and his wife Nicole were, as he arrived in the country.
It was Paul Burnett who began calling David "kid" because he was only 18 years old and he soon became known as Kid Jensen.
Being at the top of the radio game for many years, David has plenty of stories to tell. These include Elton John falling asleep at a club on his Goodbye Yellow Brick Road Tour, sharing an accidental holiday with Paul McCartney and how David Bowie once chatted him up in a cab!
David also tells of Michael Jackson teaching moonwalking on a shag pile carpet, how he came to play football at midnight on an airport runway with the Rolling Stones and an exclusive party at the Holiday Inn with a young Freddie Mercury.
Phil Lynott became good friends with David, and he writes about witnessing the start – and tragic end of Phil's career.
As a knowledgeable and high-profile music loving radio presenter, the list of stories is never ending, and in this book, David reveals his impressions of the characters – who was fun and who was more difficult.
Many people of a certain age will recall listening to Radio Luxembourg 'under the bed clothes' and at a time when the station was huge, David was one of its best known names, broadcasting to millions across Europe, showcasing music at a key moment of change.
He was promised a position at Radio 1 but was told there was something he should do before being offered a job. BBC executive Doreen Davies suggested he needed to understand more about life in the UK first, so he spent a year in local commercial radio in Nottingham at Radio Trent.
He joined just before the station went on air for the first time but was then offered a job at Capital in London the day before Radio Trent started broadcasting. Unfortunately, he had to turn down the offer because he was contracted to Radio Trent.
During his time at Trent, David became very unhappy when the industrial disputes of 1976 took place. He carried on working because he was in a different union – much to the disgust of some of his colleagues.
Eventually transferring to the BBC, he became a part of Radio 1's golden era when the station was reaching peak audiences.
David describes the joy at arriving at Radio 1 and his debut in a crazy appearance on Rosko's Round Table which was Rosko's last programme – when the whole Radio 1 crew turned up. He talks a lot about his close friendship with John Peel who he misses terribly. They'd often go out shopping together just before Kid's show.
Then there were the rivalries at Radio 1, David opens-up about them too.
Becoming a regular on Top of the Pops, David reveals sharing a dressing room with Kate Bush and how he adored his appearances with John Peel.
In 1984 it was time for a move, David left Radio 1 to join Capital Radio where he remembers his fondness for the wild days under Richard Attenborough as chairman. Joanna Lumley would pop to see him in the studio, asking 'Is it all right if I pop in?' He was the first presenter of the Network Chart and was pleased that the artists liked it.
During those times, he remembers once turning up to a Royal function, driving through the gates to see the headscarved Queen on her horse – The same Queen whose portrait he'd seen on the classroom walls back home in Canada!
Working in radio can sometimes be challenging and David talks about the management styles which inspired him – and the ones which have demoralised. He also reveals how he felt when stations moved him on.
Two years ago, David revealed he'd been battling Parkinson's disease, saying he delayed disclosing his illness to all but family and close friends for fear that "people might think less of me".
He's open about his Parkinson's and shares how he felt when diagnosed: "I was scared, I was devastated. I was angry. And yes, you ask yourself selfishly: Why me?"
David talks about how he copes now and how much he values the support from his wife Gudrun, who's been by his side since they met when she was aircrew on Iceland Air in the 70s. They met on a stopover one Christmas and were married after a couple of meetings.
This is the personal story with all its ups and downs of the Canadian who sold his motorbike and trumpet to venture to London to pursue his dream and achieved it.
Kid Jensen: For the Record, a Life in Music and Radio by David Jensen is published by Little Wings Books.
Pre-order from Little Wings Books before 23 October 2020 to receive an individually numbered hardback edition, signed by David Jensen. General sale copies from 16 November will be paperback.
A donation from book sales will be made to Parkinson's UK.