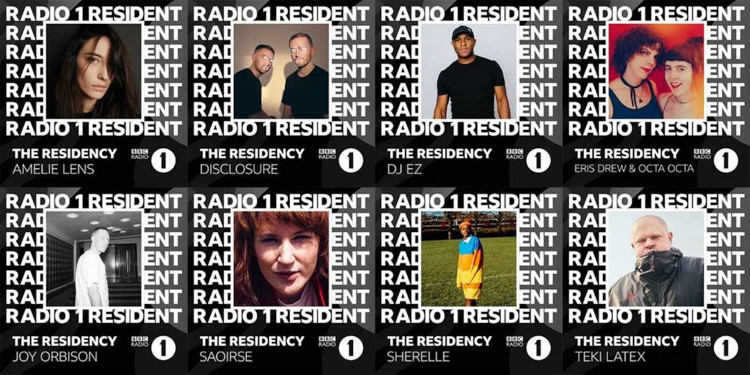 Disclosure, Amelie Lens, Joy Orbison and DJ EZ have been named as the latest additions to the Radio 1 Residency line-up.
The Radio 1 Residency is on-air with two shows every Sunday night into Monday morning, (1-2am and 2-3am) featuring big names in dance music from across the international club spectrum.
The new signings will begin their rotations in September alongside current residents Eris Drew & Octo Octa, Teki Latex, Sherelle and Saoirse.
Brothers Guy and Howard Lawrence, aka Disclosure, are no strangers to Radio 1, they say: "The BBC is unmatched when it comes to radio and we're super excited to be doing a residency show on Radio 1. It feels more important than ever to be connecting through music and being able to do that with our own show on Radio 1 is hugely exciting for us."
Joy Orbison is a London based electronic musician, he says: "I've grown up listening to Fabio & Grooverider, Benji B, Gilles Peterson and more so it means a great deal to have my own show on a station with such an important legacy. I'm really looking forward to delving into the music that excites me at the moment and giving a shine to new artists that I feel need to be heard."
Amelie Lens got into the global techno scene because of her love for dance music, ignited by her first outing to Belgium's Dour Festival at just 15 years old. She says: "It's truly a huge honour for me to be one of the residents and to be able to play some of my favourite tracks! My sound is very dancefloor orientated. I like high-energy tracks and beautiful melodies and I just cannot wait to take you guys on this journey with me."
DJ EZ has been in the music business for over two decades as a much respected DJ and creative mixer, he says: "I'm super excited to be starting my monthly residency with BBC Radio 1 and continuing to showcase the newest UK Garage alongside the very best classics and anthems!"
The new line-up is as follows:
First Monday of the month, beginning 7 September
Joy Orbison
Eris Drew & Octo Octa
Second Monday of the month, beginning 14 September
Third Monday of the month, beginning 21 September
Fourth Monday of the month, beginning 28 September
? New lineup for The Residency ?@DJEZOfficial@disclosure@AmelieLens
Joy Orbison@iamsherelle@ErisDrew & @octo_octa@TekiLatex
Saoirse

Monthly shows from the most exciting names in dance music starting on 7th September 2020 ? pic.twitter.com/eHozCdnRyC

— BBC Radio 1 (@BBCR1) August 28, 2020