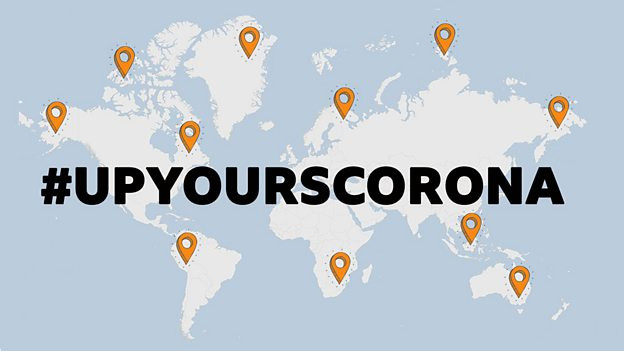 Greg James is leading a drive to get people from around the world to send an 'up yours' to the coronavirus after talking on air to listeners on his BBC Radio 1 Breakfast Show.
All shows on the station are supporting Greg with his attempt to get one person from every country on the planet to send the message using a phrase with a similar meaning in their own country. Greg is calling on listeners around the world for help tracking people down to take part.
It all came about after one listener called Esther spoke to Greg on Radio 1 Breakfast to vent her frustrations about how life has changed due to the virus. During the conversation Esther gave Corona a big 'up yours' live on air.
Sian, a listener from Germany, phoned in to give Corona her own 'up yours' after it led to her holiday being cancelled.
It soon became apparent that many people around the world share similar sentiments and so 'Up Yours Corona' was born.
The aim is for the station to find 193 people from the 193 countries with full membership of the United Nations, to deliver their 'up yours' on Radio 1 in time for the end of the breakfast show next Wednesday, Wednesday 29 July.
Greg James says: "The modern world has never faced anything like this before. Everyone has been affected by the same thing, and it's been devastating and stressful and sad for many of us. As my old nan used to say, 'If you don't laugh, you'll cry' – so let's take her advice and have a bit of light relief by bringing everyone together to treat this thing with the disdain it's showing us.
"Radio 1 used to tell me off for saying 'up yours' on air but because there's a pandemic on, there aren't really any rules anymore. So, up yours!"
? @GregJames is seeking one person from every country in the world to help him deliver this message from the whole of humanity: #UpYoursCorona!

We need YOUR help. Want to represent your country? Apply here: https://t.co/J8tRebgHMg pic.twitter.com/c9NaiqJCEp

— BBC Radio 1 (@BBCR1) July 22, 2020
If you want to get involved you must be 18 or over, physically located in the country you're applying to represent, and able to speak basic English. Apply at bbc.co.uk/upyours and lookout for the live blog on the Radio 1 website.