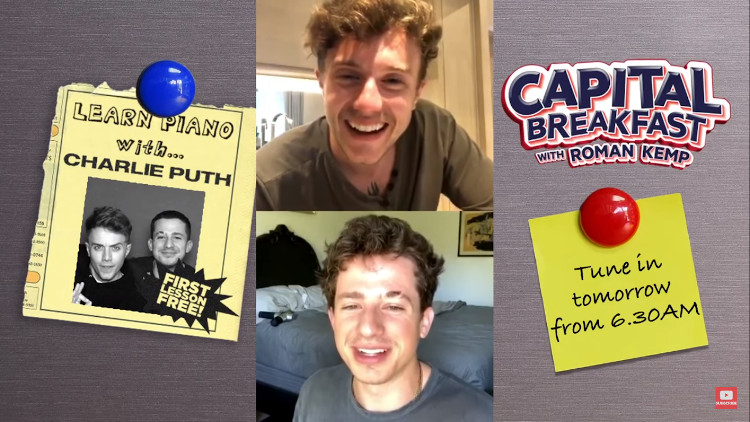 Singer, songwriter and record producer Charlie Puth went live on Capital's Instagram with Capital Breakfast's Roman Kemp last night, where he revealed that he's writing a song with Elton John and he's had "the biggest artist ever" ask to collaborate.
Roman asked if anyone had been in contact saying: "Look Charlie during quarantine we need to jump on a song?"
Charlie answered: "It's always crazy when like a massive, massive artist – it wouldn't be fair for me to say – but just think of a really, really, really massive artist, and just out of the blue just texts me and wants to like work on something.
"Because we all have nothing but time, and it kind of brings above a lot of collaborations you wouldn't ever expect to happen. So, I get this text message and it's like the biggest artist ever!"
Roman wasn't going to leave it at that and told Charlie that he had to say who it is.
"I can't say who he is," replied Charlie and teased: "But I will say, I'm writing a record before Elton John goes back to England, we're going to try and get something done, so that's something, he's also something insanely massive. That should've just been my answer."
Which HUGE A-lister do you think @charlieputh is collaborating with? ? pic.twitter.com/1RQeVffd2R

— Capital (@CapitalOfficial) April 22, 2020
During the Instagram Live catch-up, Charlie also played Roman a sneak peek of his brand new song 'Sick' from his 'Quarantine Album' which you can see below:
so, @charlieputh showed @romankemp a brand new song on an Instagram live… as in, nobody has ever heard it before ? pic.twitter.com/szjwZM75mc

— Capital (@CapitalOfficial) April 21, 2020
Tune into Capital Breakfast with Roman Kemp, weekdays from 6:30am – 10am across the UK