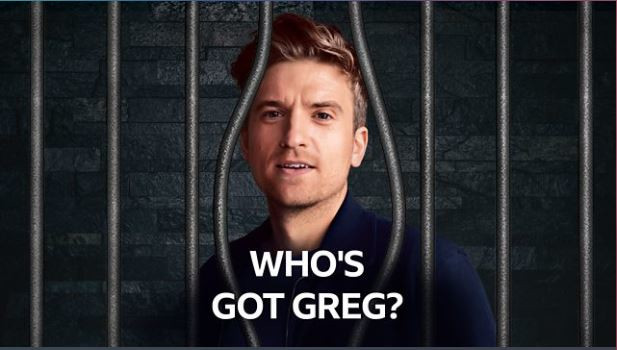 BBC
We should have known that all was not as it seemed when Greg James failed to show for his Breakfast Show earlier after a night at the BRITs, because we now know it's another prank called Who's Got Greg!
Greg called in to the Scott Mills lunchtime show today, telling him: "I was as normal, having an amazing time and it was one of the best Brits I've ever seen, then I went off to one of the after-parties.
"It got really busy and an hour and a half in I got bundled out of the back door, a blindfold was put on me and I was put in a car and driven around.
"It's so hazy because and you can hear it in my voice, I had had a lot of wine. I was in the back of this car and I fell asleep for a bit.
"I guess it was an hour or so, maybe a bit more, bundled out of this car, put in a wheelchair, with the blindfold still on, and taken somewhere and now I'm in a white room, with nothing in it apart from a single bed.
"I'm still in my Brits stuff from last night. I'm festering in my own filth. I feel like I'm slowly losing my mind."
Scott explained he'd been given a note which said that Greg had been 'captured by someone at the Brits' and it's up to listeners to work out 'Who's Got Greg!'
OK. An explanation on the 'no show'…

It's been a mad 12 hours. #WhosGotGreg pic.twitter.com/ZoDlGOJSqr

— Greg James (@gregjames) February 19, 2020
Here we go again! It's a year since Greg was thrown into the Escape Room and listeners were asked to help find him. Now they're being asked to help find which of the artists at last night's BRIT Awards have kidnapped him!
#WhosGotGreg? 🤔👉https://t.co/vprZwi4W0W https://t.co/zq1Bn6xzFy

— BBC Radio 1 (@BBCR1) February 19, 2020
Good luck if you're taking part, you can follow the live updates here.