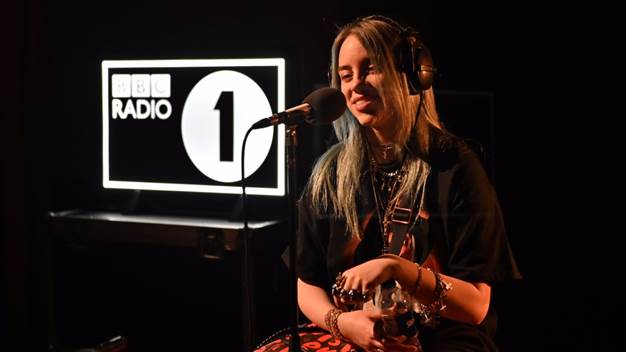 Five-time Grammy Award winner Billie Eilish will co-host Nick Grimshaw's show live on BBC Radio 1 tomorrow (Wednesday 19 February).
Radio 1 has been a supporter of Billie, from being tipped for success on BBC Music's Sound Of list back in November 2017 to her performance at Radio 1's Big Weekend in Middlesbrough last year, but this will be the first time she has co-hosted a show on the BBC.
Nick will also be speaking to Billie about her performance at the BRIT Awards tonight and about her new track 'No Time To Die', including how she feels to be the youngest person ever to put their name to a Bond theme.
Earlier, Billie and her co-writer and brother Finneas O'Connell told BBC Breakfast that they wrote the song for the 25th Bond movie in only three days while on a tour bus in Texas, after they couldn't get their creative juices flowing in the studio.
She admitted being nervous about tonight's performance at the BRITs because it will be the first time the song has been sung in front of an audience and that she has to hit a note she hasn't hit before.
You'll be able to hear all about it and more, when Billie Eilish co-hosts with Nick Grimshaw on BBC Radio 1 this Wednesday from 6pm.