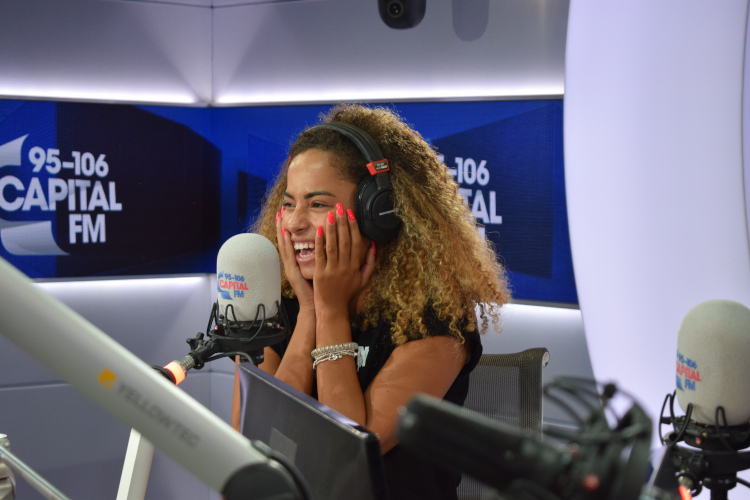 Amber was speaking to Capital's Rob Howard and Lauren Layfield, who are in for Roman Kemp on Capital Breakfast, when she revealed Millie Bobby Brown as her new celebrity friend.
Answering Lauren's question, if any celebrity fans have come out of the woodwork, Amber replied: "Oh my god – Millie Bobby Brown follows me on Instagram."
She added that she and Millie, who plays Eleven in Stranger Things, have been trying to meet up, they've been messaging each other on Instagram.
BEST. FRIENDSHIP. EVER. It turns out @AmberRoseGill & @Milliestopshate are bessies ❤️ pic.twitter.com/QurUdzGA9Q

— Capital (@CapitalOfficial) August 21, 2019
Pictures of Amber appeared in some newspapers yesterday when she said goodbye to her boyfriend Greg O'Shea after a romantic break with him in his home town in Ireland.
Rob asked if they were going to move in together?
"No no," Amber replied, adding: "Things are going really well but he's got to be over in Dublin for his rugby and I'm kinda over here in London, so at the minute we can't really decide what we're going to do."
Lauren pointed out: "We feel like you've been together ages but it's actually only a month or something?"
Amber said: "Yeah, a month and a week or something that I've known him! And it's like 'woah, woah, woah' everyone wants us to move in with him, marry him, all sorts.
"It is going really well but it's just hard because we're both doing things that we love but just in separate countries."
Oh well, it is early days in the relationship after they were crowned the winners of Love Island, winning £50,000 which they divided between themselves, so we'll have to wait and see.
Tune into Capital Breakfast, week days from 6am – 10am, across the UK.