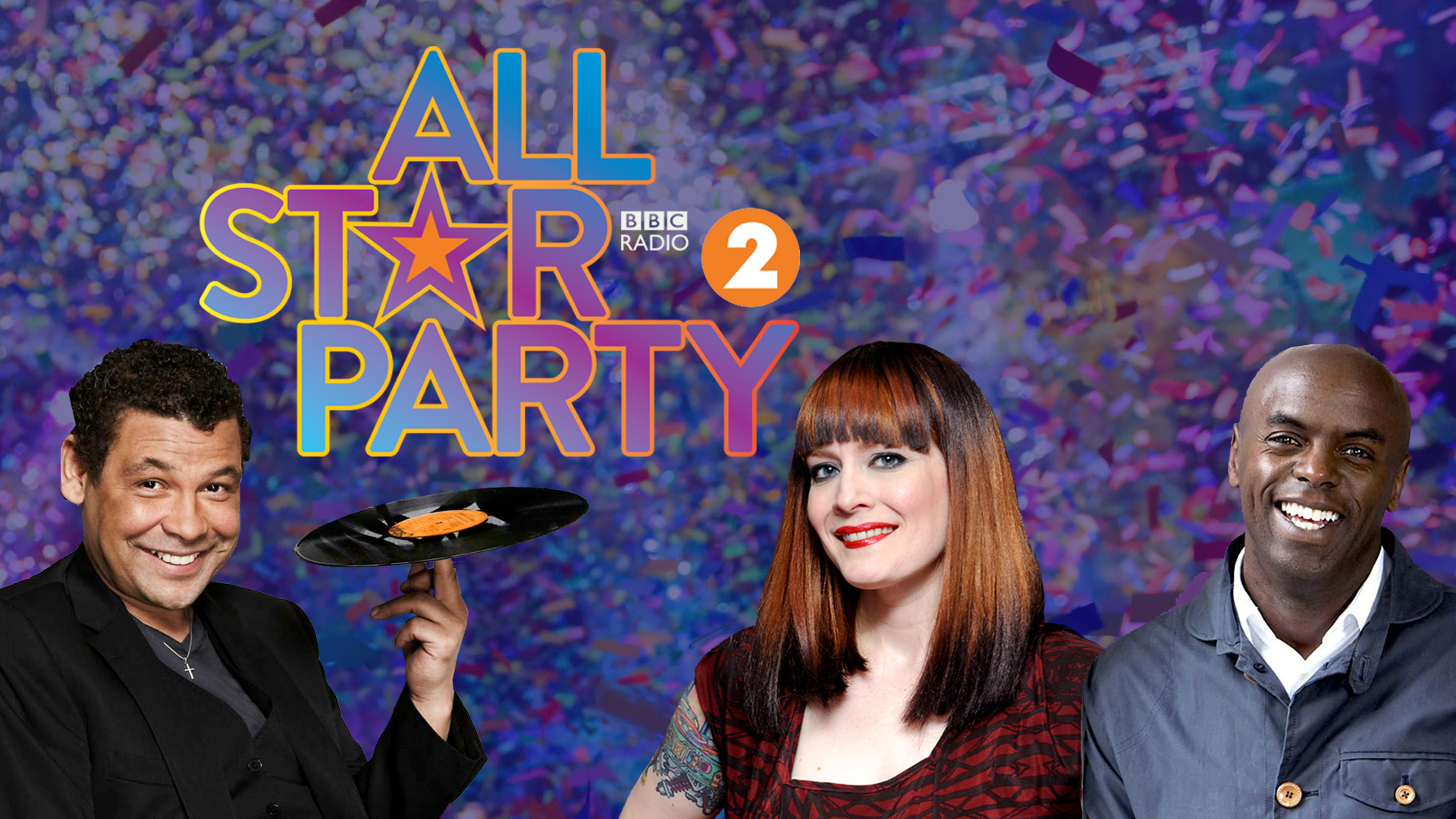 Trevor Nelson, Craig Charles and Ana Matronic are heading to the Empress Ballroom in Blackpool to host this year's All Star Party.
The trio will be playing soul, R&B and dance music for six hours from 8pm, and the whole event will be live on the radio on Saturday 28th September from 8pm.
The night will feature live performances from Beverley Knight, The Brand New Heavies, The Shapeshifters and The Fantasy Funk Band featuring guest vocalists Heather Small and Roachford.
Tickets for the All Star Party go on sale on Monday 12th August from bbc.co.uk/radio2. Doors will open at 7pm before the live music broadcast begins at 8pm.
Here's how the night looks so far:
8pm-10pm: Trevor Nelson's Rhythm Nation
Trevor Nelson who currently broadcasts his Radio 2 show four nights a week (Monday – Thursday, 10pm – midnight), will be bringing Rhythm Nation back to Saturday nights for one night only. He will deliver his unique mix of soul and R&B in front of a live audience and will introduce his personally invited guests; The Brand New Heavies and Beverley Knight to perform live on stage and on air.
Beverley Knight is a MOBO Award winning singer and musical theatre actress who starred as Rachel Marron in the West End production of The Bodyguard in 2016. The Brand New Heavies are an acid jazz collective from West London formed in 1985, centred around songwriters and multi instrumentalists Simon Bartholomew (guitar) and Andrew Levy (bass). They are best known for their singles such as 'Dream Come True' and 'Stay This Way' in the 1990s, with lead vocalist at the time N'Dea Davenport and cover of 'Midnight at the Oasis'.
Trevor Nelson says: "It's great to be back together with my Saturday night crew, we had such a fun time in Bridlington last year and we are going to have it large in Blackpool this year. I'm so excited to have The Brand New Heavies with me, one of my favourite UK bands and Beverley Knight, she just keeps getting better every year – I just want to work with her all the time!"
10pm-midnight: Craig Charles' House Party
Craig will be picking up the reins with his ultimate Saturday night party playlist at 10pm, with a performance from The Fantasy Funk Band featuring British soul legends Heather Small and Roachford.
Heather is the former lead singer of M People who had hits with 'Moving On Up' and 'Search For The Hero'. The band won the Best British Dance Act Award at the Brits in 1994 and 1995, as well as the Mercury Music Prize for their 1993 album, Elegant Slumming. Roachford are best known for 1980s soul hits 'Cuddly Toy' and 'Family Man'. Andrew Roachford has been lead singer of Mike and The Mechanics for the last 10 years and was appointed an MBE in 2019 for his services to music.
Craig Charles said: 'Big beats, bass lines and booga blooming loo. The best boogie brilliant bands and borderline bacchanalia. Blackpool. Be there. The Empress Ballroom. Boom!!!"
Midnight-2am: Ana Matronic's Dance Devotion
Following a house set from The Shapeshifters, Ana Matronic will take us to her exclusive Dance Devotion afterparty with house, disco and other floor fillers. The Shapeshifters consist of house producer Simon Marlin, formally as a duo with Max Reich. They released their debut single, 'Lolas Theme' in 2004 which reached number one in the UK.
This year's Radio 2 All Star Party follows last year's event in Bridlington, which featured live music from Clean Bandit, Incognito, Lemar, Kid Creole & The Coconuts and The Fantasy Funk Band featuring Gabrielle, Jaki Graham and John Turrell. The inaugural event in 2017, which took place at the Manchester Apollo, featured live performances from Soul II Soul, The Fantasy Funk Band with guest vocalists Shaun Escoffery and Omar, plus disco and funk legends Shalamar.
All programmes will be available to listen to on the BBC iPlayer and BBC Sounds App.