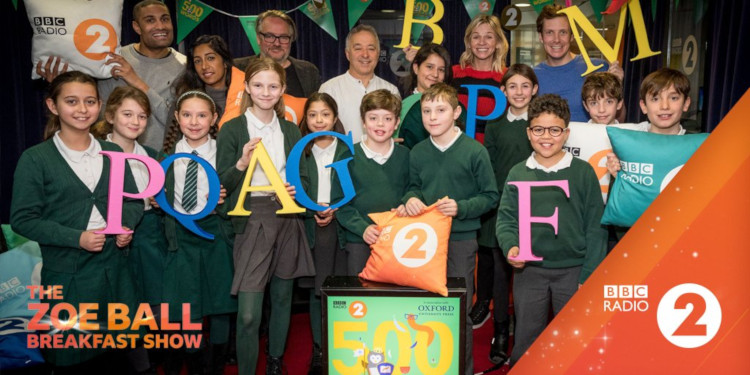 BBC
BBC Radio 2's 500 Words 2019, the short-story writing competition for 5-13 year olds, was launched on the Zoe Ball breakfast show this morning.
She revealed that this year's live final will take place in the surroundings of Windsor Castle on Friday 14 June.
During this morning's show, Hunter's Bar Infant School in England, Gilnahirk Primary School in Northern Ireland, Whitchurch High School in Wales and St Vincent's Primary School in Scotland took over the playlist.
The pupils also shared their favourite authors and ideas for their 500 Words stories.
Once again, the competition will be run in association with Oxford University Press (OUP) to increase reach into schools and provide further support to teachers.
Her Royal Highness The Duchess of Cornwall is returning as an Honorary Judge and, to mark today's launch, features in a specially-created animation.
Her Royal Highness first supported 500 Words in 2015. She has been an Honorary Judge since 2016.
Zoe Ball says: "I'm so proud and excited to be launching 500 Words 2019. It is incredible what Chris Evans has achieved since he first created it back in 2011. I encourage all of our younger listeners to delve deep into their imaginations, and perhaps it could be you heading to the live final at one of the world's most iconic buildings, Windsor Castle, in June!"
500 Words, created by Chris Evans in 2011, is now in its ninth year. In that time over 800 000 children have taken part by getting creative and submitting their stories.
There are two categories in the competition: 5-9 years and 10-13 years and entries can be submitted up until 7pm on Friday 8 March.
What a morning. ❤️

This morning @zoetheball launched #500Words 2019 with a brainstorm bonanza, hosted by authors and judges @monstroso and @frankcottrell_b!

Want to pass on some inspiration to a child in your life? Simply head to the 500 Words website. https://t.co/QjagonJwXC pic.twitter.com/j9Rs8WR3e6

— BBC Radio 2 (@BBCRadio2) January 29, 2019