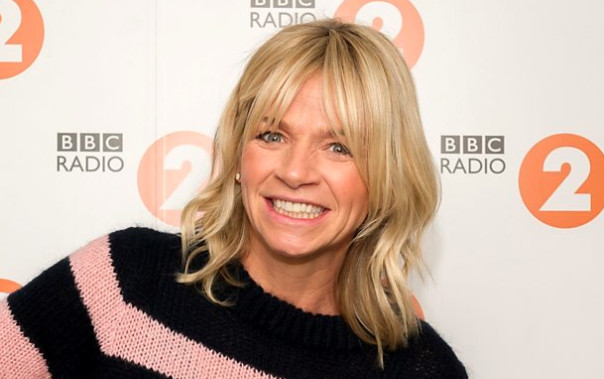 Zoe Ball started on the biggest show in UK radio today, the BBC Radio 2 breakfast show by welcoming listeners and referring to them as superheroes.
She began by saying, "Hello, my name's Zoe Ball, how's your belly off for spots?"
The first song just after 6.30 was Respect by Aretha Franklin, after which Zoe said of the tune, that it "had to be a dame".
She then introduced her team, Richie Anderson on travel, Mike Williams on sport, weather with Carol Kirkwood and news with Tina Daheley, who quickly established themselves as part of the show.
Zoe says: "I'm absolutely thrilled to be following in the giant footsteps of Chris Evans as the host of the Radio 2 Breakfast Show. To be the first woman to present this very special show is both an honour and privilege.
"Believe me, I'm not underestimating the enormity of the task, to follow not one but two of my broadcasting idols, into such a well-loved show is somewhat daunting but I hope, in the same way that Chris made this show his own after taking over from the wonderful Sir Terry Wogan, that with a top team alongside me, I can bring the fabulous Radio 2 audience a show they want to wake up to."
Although there's a fair amount of speech in the show, the general "chit chat" is concise and brief, giving a music intensive feel.
As for the music itself, it's typically "Radio 2" as you would expect, reasonably familiar and well balanced. It sounds like there's a lot of it in the show.
Speaking to her first guest, John Cleese, it sounded more like a friendly chat between two mates rather than an interview. Zoe sounded perhaps a little manic against Cleese's relaxed style, but it was a warm and comfortable listen.
The feature, 7 Second Shout Out where three listeners come on the phone and have seven seconds each to mention as many friends as possible, maybe needs a bit of work. It's a good way to get listener voices on the air but sounded a bit like verbal wallpaper.
Hit, Miss or Maybe, revived from Zoe's time on Live and Kicking, had Bake Off winner, Nadiya Hussain giving an opinion on three short clips from new songs – Fleur East, Westlife and Busted. All very safe with nothing controversial here! Nadiya managed to get a good plug in for her new book, which is fair enough.
It isn't fair to make a judgement on the first day. Any new breakfast show takes time to sound right to listeners as they get used to a new routine first thing in the morning, but Zoe and her team got off to a flying start. They've probably put in a lot of time doing "dry-runs" for the show and it certainly paid off.
A particularly nice touch was having Sara Cox on the phone towards the end of the show, dispelling and rumours of rivalry and a "fading friendship".
The Zoe Ball breakfast show is in its infancy, but if this morning is anything to go by, it won't be long before it reaches adulthood! After all, she has a week to get it right before Chris Evans starts his commercial free breakfast show on Virgin Radio when a battle for listeners will really begin.
Today is a big day for BBC Radio 2 with new programmes during the day and into the evening. Sara Cox hosts her first permanent drive-time show from 5pm till 7pm. On moving into the new slot Sara
says: "I've been proud to be part of the Radio 2 family for a few years now and the opportunity to present such a big show… playing fantastic music and hopefully making people smile as they cook tea or head home after a day's graft – is the icing on what is already a very brilliant cake.
"I'm beyond chuffed to be given this role and to directly quote my mum on hearing the good news, it is indeed 'fandabbyruddydozy'."
Former drive co-host Jo Whiley is moving to evenings and starts her new show today as well. Jo says: "I'm very much looking forward to hosting a new show for a new year which will have music at the very heart of it as well as guests and live sessions. Dream show, actually. Can't wait!"
Jo will be on from 7pm till 9pm, with specialist programmes following at 9pm each night and Trevor Nelson's new Rhythm Nation, also starting tonight.
Trevor says: "To present eight hours a week of the music I love on BBC Radio 2 is a dream come true for me. I'll be introducing tracks from some soul stars of the future as well as playing some of my favourite songs from the past 50 years of dance music, from Motown to the present day. Bring it on!"
Trevor previously presented Rhythm Nation on Radio 2 on Saturday nights (8pm-10pm).