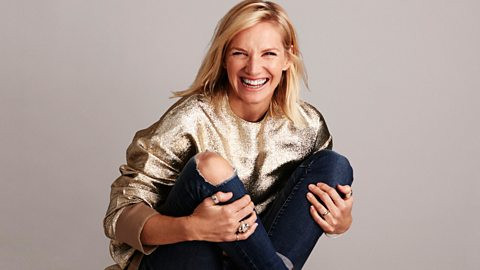 Jo Whiley, who starts a new evening show on BBC Radio 2 on Monday, has been speaking about the difficulty she faced while on the drivetime show.
Talking to the Mail on Sunday's Event Magazine about being on the show as co-host with Simon Mayo, she described the abuse she received online as 'particularly savage'.
Mayo had been presenting the show by himself and when she joined him last May there were comments about her such as: 'take a long hard look at yourself', 'steaming in to a show that was great', 'just because you are a woman, being given that', 'using your sex to get your new position'.
This type of abuse continued for three months and she says, "I was tearful quite a lot of the time.
"Some days it was hard to walk out of my front door, let alone present a radio show. I would go on Twitter to tell listeners about a great interview coming up and be bombarded with people being vicious."
She says, "Aside from family dramas, this is the toughest thing I've had to endure.
"There was this wall of resistance to me from a very vocal bunch of people.
"It was hurtful, insulting. It made me look at who I am not just as a broadcaster but as a person. It made me reassess everything.
"It's too easy to hate these days, to forget there's someone just doing their thing, on the receiving end of such hostility."
Her boss had told her that a new show like this takes at least six months to bed-in. It didn't really get that chance as Simon Mayo decided to leave the station just before Christmas, but he did lend his support to Jo. He tweeted that she'd been his first choice as co-presenter and the abuse she'd received "has been appalling".
The chemistry between Simon and Jo might not have been quite right on-air or given long enough to develop, but there's a saying that nothing is constant in radio except for change. Simon is due to announce a new radio show sometime this month and Jo starts her new BBC Radio 2 show, 7pm – 9pm Monday evening.
On the show she'll play the best new music and include live sessions. There will also be occasional guests, with the first being Mark Ronson talking about his Golden Globes win and his upcoming new album.
Jo says, "I'm very much looking forward to hosting a new show for a new year which will have music at the very heart of it as well as guests and live sessions. Dream show, actually. Can't wait!"