Vernon Kay raises over £4 million for Children in Need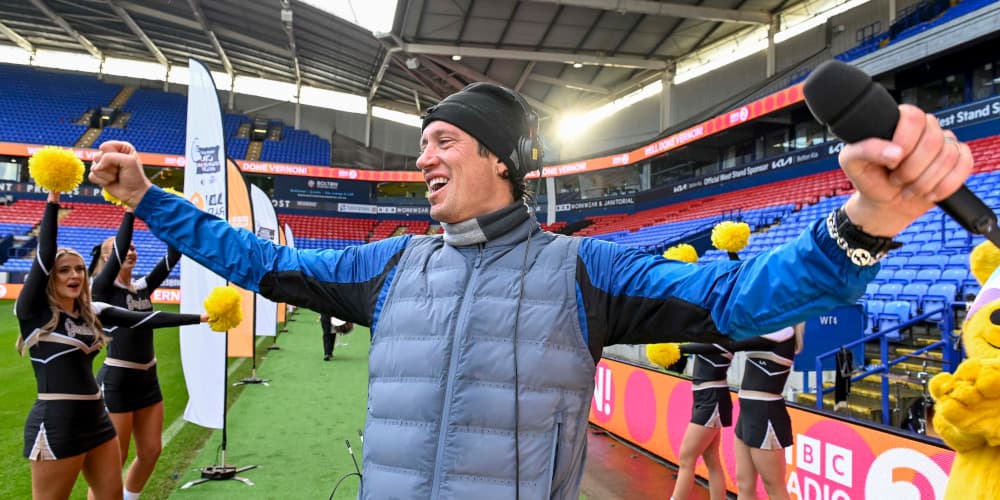 Photo: BBC
This week, Vernon Kay's Ultra Ultra Marathon Challenge, in aid of BBC Children in Need, has seen the Radio 2 presenter raise over £4 million.
He set off on Tuesday from Victoria Park in Leicester, heading to Bolton Wanderers' football stadium in his hometown.
This morning at 5.30am, he headed from Old Trafford to Bolton Wanderers Football Stadium, where there was a live outside broadcast of The Zoe Ball Breakfast Show on Radio 2. There were 400 members of the public who'd received tickets to be there in a free ballot.
En route, Vernon ran through his old secondary school, Saint Joseph's RC High School, where he met his former PE teacher and Physics teacher and pupils from his year.
"Oh this is amazing! Once a Joey always a Joey! St Joseph's, oh man," Vernon said. "Its changed a little bit but not a lot, I can see my old French class (maths class, the gym it looks like it's now a classroom, oh man its changed a bit but crikey its bringing back so many good memories. I loved school! Oh that's the pick me up I needed!"
When he eventually arrived at Bolton Wanderers and the finish, speaking to Zoe, Vernon admitted to being absolutely exhausted.
"I'm absolutely spent. Physically, mentally, there's nothing in the tank," he said. "I'm so glad that I went to St. Joseph's first because that was a real boost. We were coming through Bolton at the top and everyone was beeping their horns. It just really elevates you. Is there anyone here who can replace a knee?!…
"It's been absolutely unbelievable. Literally unbelievable. It's been one of the most painful and joyous experiences I've ever had. It's been painful but people that we've met along the way, bear with me [crying], we've met some brilliant people who've donated all they can.
"Just one foot in front of the other, that's what it was. It was great that we had a great team who have been absolutely brilliant. Pushing me along and motivating me. So thanks to the gang. JP, Mark, Nick – Nick's had his thumbs where not many people have so – that's the masseuse – thanks Nick. Chris on security as well. Obviously Professor Greg."
When Zoe revealed that Vernon's 116 miles of Ultra Ultra Marathon Challenge had so far raised £4,014,362 in aid of BBC Children in Need, he responded: "That's what it was for. Imagine that all the great stuff we can do with 4 million quid for Children in Need! Oh, that's made it all worthwhile.
"The pain has disapp …well… the pain has lessened in the ankles and the knees and everything. Thank you. I cannot thank everyone enough. I really can't thank everyone enough. All those special people we've met!"
If you'd like to donate, you can do so at www.bbc.co.uk/vernon.