Jeremy Hunt says he "used to be a Latin dancer with no great skill"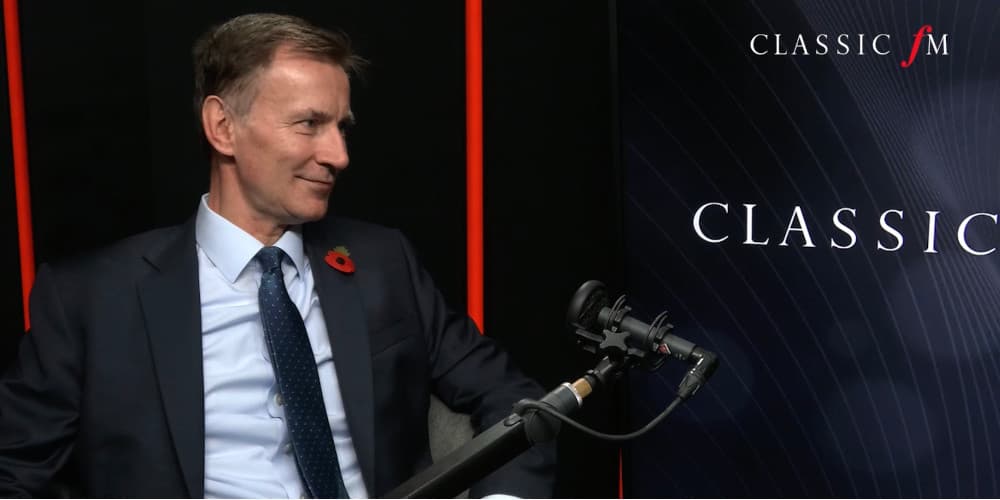 Chancellor Jeremy Hunt sat down with Classic FM's Moira Stuart to pick his choice of classical music tracks, to chat about his life and what the future holds for him.
During the interview he revealed some interesting things including that before he went into politics he was a fanatical Latin dancer!
He explained that this came about after going to Brazil for three years in a row to go to the carnival and he loves Latin music.
"I used to be a Latin dancer with no great skill," Mr Hunt told Moira. "But when I was elected as an MP and I was still a young single man, I used to wear a t-shirt under my suit, and when we did the last vote, 10 o'clock in the evening, I would then hop into my car and drive to a Lambada club, take off my suit, like Superman, and get on the dance floor!"
He added: "Tango is the one dance I've never learned. And that's my ambition."
Moira asked if we might see him on Strictly at some point?
"I don't think so. But I hope you might see me in Buenos Aires doing a tango class with Lucia," he replied.
The Chancellor also revealed that he was thrown out of his school choir because he couldn't sing in tune, but he would love to learn to play the violin.
As for his political career, Mr Hunt told Moira that he hopes to remain as Chancellor until the next election.
"Obviously, that's a decision for the Prime Minister, but it's a job that I love… You can never predict the future in politics," he said.
On ambitions to become Conservative Party leader, he explained: "I've tried twice and failed miserably. And I think that that gene has been excised from me!"
The full interview with Chancellor Jeremy Hunt will be broadcast on Moira Stuart Meets on Classic FM, tomorrow Sunday 5 November at 9pm.