Arnie among well-wishers for Vernon Kay's ULTRA Ultramarathon Challenge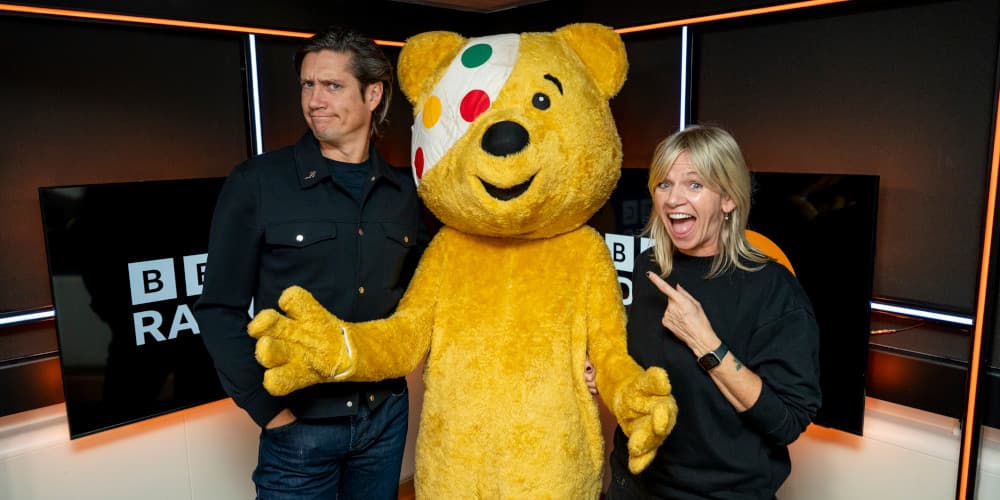 Photo: BBC
Ahead of his ULTRA Ultramarathon Challenge for BBC Children In Need, Vernon Kay was on Zoe Ball's Radio 2 Breakfast Show this morning to talk about it.
There were also good luck messages from Alan Carr and Arnold Schwarzenegger, and Angela Griffin called into the show with a good luck message as Zoe handed Vernon a surprising good luck gift!
Vernon will travel from Wogan House to Leicester today on a bus with the Radio 2 team before he starts his challenge tomorrow morning during The Zoe Ball Breakfast Show. He aims to finish around 9am on Friday – BBC Children in Need Appeal day, covering approximately 115 miles on foot.
He will be taking in marathons and ultramarathons across the four days to get him from Victoria Park in Leicester, recent home of Radio 2 in the Park, to Bolton Wanderers' football stadium in his hometown.
Arnold Schwarzenegger gave Vernon some advice, saying: "Well I think that it shouldn't be a problem if that's his goal. If you can visualise your goal and if can see yourself at the finish line, I think that you can do it. It's seeing it, visualising it, believing it is achieving it.
"He will make it, there's no two ways about it because if that's his goal, there's nothing that can stop him. As long as he doesn't get any injuries and he just has to focus on his goal.  That's the bottom line."
Vernon responded to Zoe: "Randomly, I've had a damn good night out with Arnold Schwarzenegger. I can't talk about it – we'll have a chat off air. One of the maddest things that's ever happened to me in my life!"
He added: "One second – we were having a couple, and he said, 'Quick Vernon, get to the bar', he said it!"
Zoe said she couldn't wait to hear the rest of the story!
Alan Carr was another to send his best wishes: "Hey Vernon, it's Alan Carr here. I've just heard you're doing an ULTRA Ultramarathon challenge. You are crazy! Good luck my love! Every step you take is helping Children In Need, which is just wonderful. Well done, Vernon… I wouldn't do it!"
Also, fellow Radio 2 presenter called into the show to say she had a present for him – as Zoe handed it to Vernon.
"I've got two words for you Vernon – nipple plasters, that's my care package for you," Angela said.
Vernon responded that he hopes they have tassels!
You can keep up to date with all the latest on Vernon's ULTRA Ultramarathon Challenge for BBC Children In Need by listening to his updates into Radio 2 shows across the week – live and after transmission – on BBC Sounds.