Radio 2 reveals Oasis has top 2 spots in most streamed albums of the 90s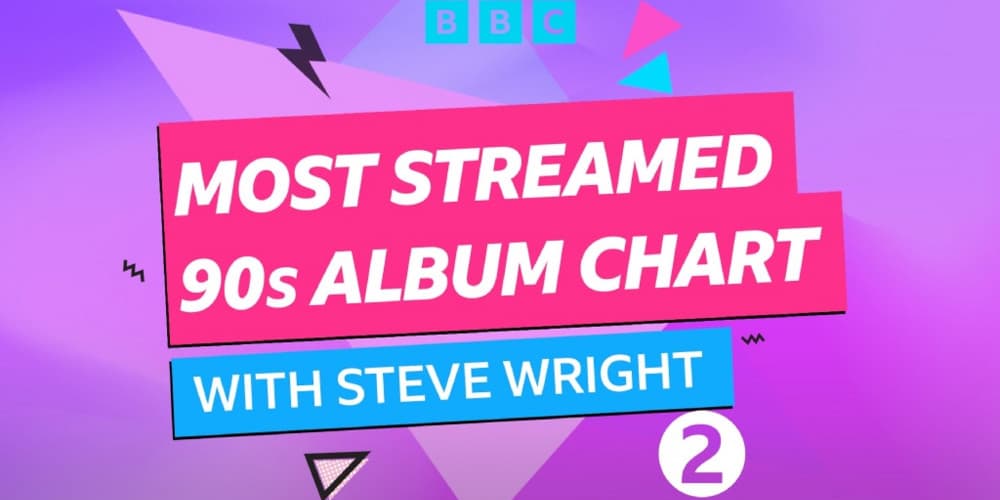 To mark National Album Day, Steve Wright is to host a programme on Radio 2, revealing the top 40 most-streamed albums released in the UK in the 1990s.
The programme is now available on BBC Sounds and will air on Radio 2 on National Album Day, next Saturday, 14 October 1-3pm.
Oasis take the top two spots with (What's the story) Morning Glory? at No.1, and Definitely Maybe in second place.
2001 by Dr Dre is at No.3 and fourth and fifth positions are both held by Nirvana, with Nevermind and In Utero. The countdown also features Westlife, Spice Girls, Destiny's Child, Metallica, Shania Twain and more.
The chart is based on UK streams, as compiled exclusively by the Official Charts Company for National Album Day.
Commenting on (What's The Story) Morning Glory? being No. 1, Noel Gallagher says: "I'm thrilled, but I wouldn't say I was that surprised that (What's The Story) Morning Glory has been voted the most streamed album of the 90s – I still do have my faith in the taste of people in this country.
"I mean if you've got Wonderwall and Don't Look Back In Anger on an album, you're gonna be all right aren't ya…
"For certain people, it'll be bringing back memories of their youth in the 90s and that brilliantly amazing decade we all lived through and then for the young people coming to it now, the songs deal with just the universal truths of life, and they will always be timeless… You know, of love and loss and heartbreak and friendship and the weather. All the universal things that we that we live through on a day-to-day basis that we don't really notice. So thanks to everybody."
In the programme, commenting on second placed album, Liam Gallagher says: "All right, this is Liam G and I'm here to congratulate Definitely Maybe for being the second most streamed album of the 90s.
"Love that record, without it god knows where I'd be and god knows where we'd all be! I'll be celebrating it in my own way next year by doing some gigs, so stay tuned and listen out for details in a bit."
Steve Wright says: "The joy of this chart is that it shows which 90s albums have truly endured. And that's because they're all really memorable, really influential, or just really well-loved. It's a great mix, with all the albums you'd expect to be in there and some that, maybe, you wouldn't…"
Jeff Smith, Head of Music, Radio 2, says: "For National Album Day, the Most Streamed 90s Album Chart on Radio 2 and BBC Sounds is a fantastic look back and reminds us just what an incredible decade of music it was."
Martin Talbot, Chief Executive of Official Charts: "We are delighted to be collaborating with Radio 2 on this fantastic National Album Day chart, in celebration of the great studio albums of the Nineties. This fascinating rundown is a superb reminder of what an eclectic decade it was, dominated by Britpop and hip-hop, country and soul, metal and grunge, plus (of course) plenty of pop. What a decade it was."
The Official Top 20 Most Streamed 90s Albums are:
(What's the story) Morning Glory? by Oasis (1995)
Definitely Maybe by Oasis (1994)
2001 by Dr. Dre (1999)
Nevermind by Nirvana (1991)
In Utero by Nirvana (1993)
Bat Out of Hell II: Back Into Hell by Meat Loaf (1993)
The Lion King Original Soundtrack (1994)
Californication by Red Hot Chili Peppers (1999)
Metallica by Metallica (1991)
Ready to Die by The Notorious B.I.G (1994)
All Eyez on Me by 2Pac (1996)
Come On Over by Shania Twain (1997)
Rage Against the Machine by Rage Against the Machine (1992)
OK Computer by Radiohead (1997)
Urban Hymns by The Verve (1997)
Jagged Little Pill by Alanis Morissette (1995)
The Slim Shady LP by Eminem (1999)
Be Here Now by Oasis (1997)
The Bends by Radiohead (1995)
The Miseducation of Lauryn Hill by Lauryn Hill (1998)