Amanda Holden jumps 13,000ft from plane in tandem skydive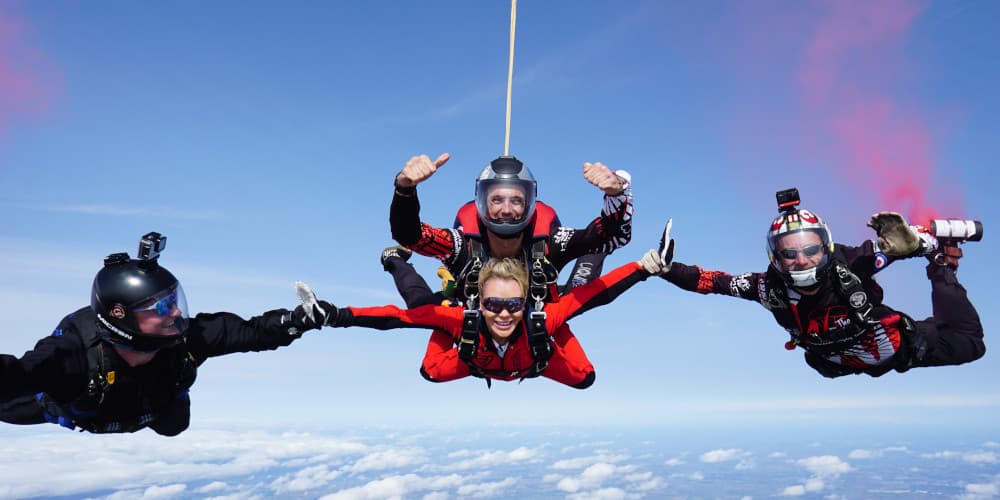 Photo: Paul Kiczma
First, she scaled Blackpool Tower, now Amanda Holden has joined The Wings Parachute Display Team, in an epic tandem skydive.
It was the third of this week's challenges for Heart Breakfast's 'Race Against Time', in aid of Global's Make Some Noise.
The Wings Parachute Display Team specialize in aerial displays, and Amanda jumped 13,000ft out of a plane, with the team, who were armed with smoke cannisters and a Heart flag to create a formation in the sky.
After completing the challenge Amanda said: "I feel like I might learn how to do it on my own one year…if I keep doing it. I was in free-fall for about 30/40 seconds and then you have a tiny weeny, it looks like a jelly fish, parachute, that slows you down to about 20mph so you can then do all the formation stuff."
She said that the experience was amazing, but terrifying and odd sitting on the edge of the plane with her legs dangling out.
"I mean everything I seem to have chosen to do is height related…it's a thrill but there is that terror. But I'm going to say it was thrilling," she added.
Support small charities across the UK by donating to Global's Make Some Noise here.
View this post on Instagram