BBC Radio 2 to mark 60 years of Dr Who with special programme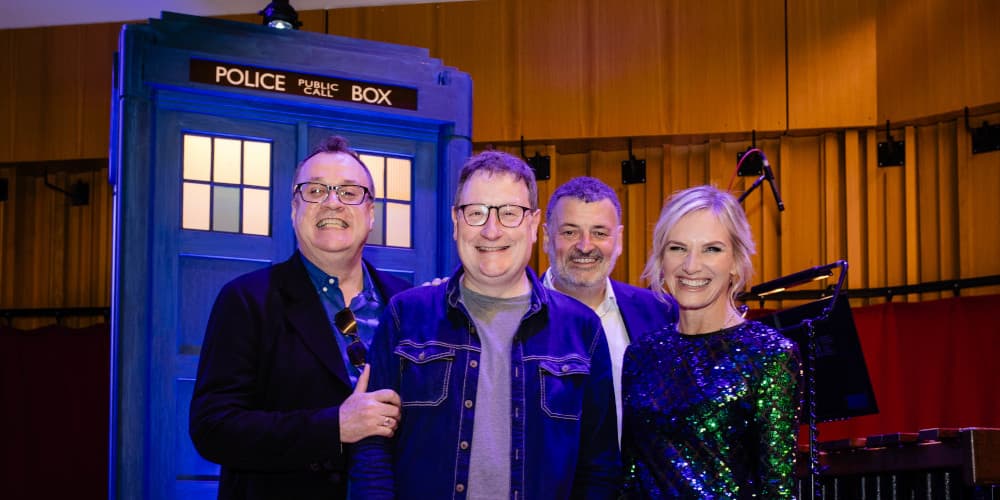 Jo Whiley is to present a special Sunday Night is Music Night on BBC Radio 2, to celebrate 60 years of Dr Who.
The BBC National Orchestra of Wales and the BBC Singers, conducted by Alastair King, will perform musical sounds of the iconic TV series in Doctor Who @60: A Musical Celebration.
The concert features world exclusive first live performances of the Doctor's new companion, Ruby Sunday's theme The Life of Sunday, the theme tune of the Fifteenth Doctor called Fifteenth, and the new version of the Doctor Who theme tune.
This has been reimagined by composer Murray Gold, who was interviewed on the night, as well as fellow composer Segun Akinola.
Also included, are I Am The Doctor, Abigail's Song, This Is Gallifrey, The Impossible Girl, I Am A Good Man and The Shepherd's Boy.
There are contributions from Russell T Davies, Steven Moffat and Chris Chibnall, and also a trip back in time to the classic years of Doctor Who from the 1960s, 70s and 80s featuring the vintage synthesisers of BBC Radiophonic Workshop veterans Mark Ayres and Peter Howell.
There is also a look ahead to the upcoming 60th anniversary specials on BBC One later in the year.
Jo Whiley says: "As listeners to my Radio 2 show know I'm a HUGE Doctor Who fan, so presenting this concert is a dream come true. How better to mark the incredible 60th anniversary of the show than with this wonderful celebration of the music that has featured across the decades."
Helen Thomas, Head of Radio 2, says: "BBC Radio 2 just had to mark this momentous anniversary of one of our most-loved BBC TV series. We're thrilled to bring the amazing BBC National Orchestra of Wales and the BBC Singers to the station to play the memorable music of Doctor Who which we know our listeners will love."
Lisa Tregale, Director, BBC NOW adds: "Everyone at BBC National Orchestra and Chorus of Wales is looking forward to welcoming Doctor Who fans to our home, BBC Hoddinott Hall, in Cardiff for this special 60th anniversary concert with BBC Radio 2.
"The stage is set, the Daleks have descended, the TARDIS has landed and all Whovians are in for a special treat! Tune into Radio 2 to hear classic and brand-new Doctor Who soundtracks performed by BBC NOW as part of this celebration."
Doctor Who @60: A Musical Celebration will be broadcast on Radio 2 from 8-10pm on Sunday 15 October and available to hear on BBC Sounds, and also filmed for BBC iPlayer, to be broadcast at a later date.