BBC Radio 2 listeners' favourite UK Eurovision entries revealed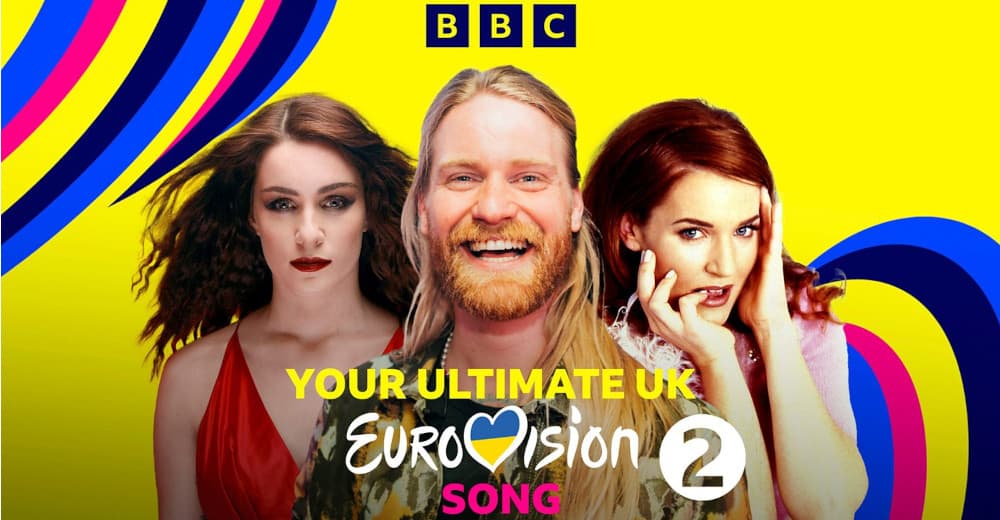 As Eurovision fever ramps up, the results of a Radio 2 listener poll on their favourite UK entries have been revealed.
Listeners voted for up to five of their favourite songs of all the UK entrants that have competed in the Eurovision final since 1957.
Coming out on top was Space Man by Sam Ryder from 2022's Eurovision Song Contest. Making Your Mind Up by Bucks Fizz (1981) is in second place, Ooh Aah…Just a Little Bit by Gina G (1996) is in third place, Love Shine a Light by Katrina and the Waves (1997) in fourth and Save Your Kisses for Me by Brotherhood of Man (1976) rounded off the top five.
Sam Ryder says: "This is just bonkers! We went into that competition as fans, and we thought it may be that we come absolutely dead last. But what we can achieve is holding ourselves with a certain grace and respect for being there in the first place, and gratitude first and foremost.
"When we were sat there on the night and those scores started coming in, we were looking at each other bursting out laughing because we didn't have a clue that would happen. And now this result!
"I'm just so grateful. Thanks to all of the listeners who voted and everyone at Radio 2 who supported the song from day one – I really honestly appreciate it."
The full Top 40 countdown hosted by Steve Wright is available on BBC Sounds from today, Monday 24 April and broadcast on Radio 2 on Saturday 13 May, 1-3pm.
Steve Wright says: "Sam Ryder's Space Man has really taken off with Radio 2 listeners! I can't wait to count down the rest of the chart and see who else has been blasting off into the hearts of Radio 2 listeners as we all look forward to this year's Grand Final."
The Top 40, as voted by Radio 2 listeners:
1. Sam Ryder – Space Man (2022)
2. Bucks Fizz – Making Your Mind Up (1981)
3. Gina G – Ooh Aah… Just a Little Bit (1996)
4. Katrina and the Waves – Love Shine a Light (1997)
5. Brotherhood of Man – Save Your Kisses for Me (1976)
6. Sandie Shaw – Puppet on a String (1967)
7. Cliff Richard – Congratulations (1968)
8. The New Seekers – Beg, Steal or Borrow (1972)
9. Lulu – Boom Bang-a-Bang (1969)
10. Michael Ball – One Step Out of Time (1992)
11. Sonia – Better the Devil You Know (1993)
12. Bardo – One Step Further (1982)
13. Scooch – Flying the Flag (For You) (2007)
14. Mary Hopkin – Knock, Knock Who's There? (1970)
15. Imaani – Where Are You? (1998)
16. Olivia Newton-John – Long Live Love (1974)
17. Daz Sampson – Teenage Life (2006)
18. Cliff Richard – Power to All Our Friends (1973)
19. Lucie Jones – Never Give Up on You (2017)
20. Lynsey de Paul & Mike Moran – Rock Bottom (1977)
21. Love City Groove – Love City Groove (1995)
22. Blue – I Can (2011)
23. The Shadows – Let Me Be the One (1975)
24. Clodagh Rodgers – Jack in the Box (1971)
25. SuRie – Storm (2018)
26. Frances Ruffelle – Lonely Symphony (We Will Be Free) (1994)
27. The Allisons – Are You Sure? (1961)
28. Molly – Children of the Universe (2014)
29. Jade Ewen – It's My Time (2009)
30. Jessica Garlick – Come Back (2002)
31. Precious – Say It Again (1999)
32. James Newman – Embers (2021)
33. Sweet Dreams – I'm Never Giving Up (1983)
34. Co-Co – The Bad Old Days (1978)
35. Belle and the Devotions – Love Games (1984)
36. Scott Fitzgerald – Go (1988)
37. Samantha Janus – A Message to Your Heart (1991)
38. Jemini – Cry Baby (2003)
39. Electro Velvet – Still in Love with You (2015)
40. Bonnie Tyler – Believe in Me (2013)