Classic FM and former BBC Breakfast host Bill Turnbull has died aged 66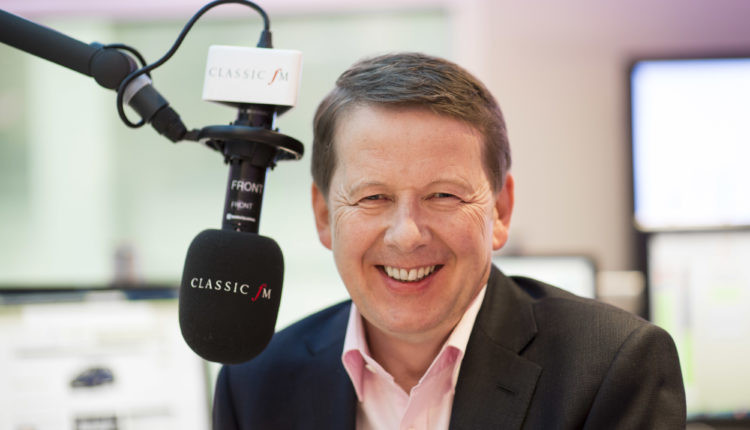 Broadcaster Bill Turnbull has died aged 66 following a long battle with prostrate cancer, his family have said.
They confirmed he passed away peacefully at home in Suffolk surrounded by his family on Wednesday after a "challenging" fight with advanced prostate cancer.
Bill went public with the diagnosis in 2018, having been diagnosed the previous year.
Bill began his career in radio in 1978, when he joined Radio Clyde in Glasgow. He joined the BBC as a reporter for Radio 4's Today programme in 1986 and Breakfast Time as a reporter in 1988.
He's probably best known for his time at BBC Breakfast, which he joined in 2001 until 2016 when he joined Classic FM  to host two weekend programmes, on Saturday and Sunday from 10am to 1pm.
Bill also launched and presented Pet Classics, Classic FM's programmes to help keep pets and their owners relaxed and calm during fireworks season. In October 2021, Bill announced that he would take leave of absence from his weekend show. He returned to Classic FM in August this year, to host Saturday mornings.
Philip Noyce – Managing Editor, Classic FM said: "I'm deeply saddened by this news. Bill was an absolute treasure of Classic FM whose presence on and off the air will forever be missed. He was a very gifted journalist and presenter, and he loved radio and understood its ability to connect with people on a personal level – something he did with ease and aplomb.
"As well as being an outstanding broadcaster, Bill was a family man, a devoted father and husband, who loved the company of friends (including the four-legged variety), and was passionate about music, football, nature and his beloved bees. We have lost an exceptionally talented broadcaster, but most of all we've said goodbye to a fine man who will be dearly missed by us all at Classic FM, as well as his many listeners."
Tim Davie, BBC Director-General also paid tribute: "Bill was a much loved and respected broadcaster and journalist – not just by viewers but by all those lucky enough to have worked with him.
"He always struck the right tone, no matter what the story. Warm, wise, professional and caring, he will be much missed by us all.
"Our thoughts go out to his family and many friends."
Sending my love and thoughts to the family of my wonderful friend Bill Turnbull. He was a brilliant journalist, a stickler for accuracy, passionate about @BBCBreakfast and a fabulously supportive and kind team-player. Most of all he was great fun, I love how he made me laugh. Xx pic.twitter.com/5rC8drv8om

— Louise Minchin (@louiseminchin) September 1, 2022
So sad to learn of the death of Bill Turnbull…broadcaster and bee-keeper, extraordinaire.
Bill was a master of the old school: informed, charming, collegiate, competitive but ever courteous.
Our thoughts and prayers are with his family and many friends.

— Alastair Stewart (@AlStewartOBE) September 1, 2022
RIP Bill Turnbull, 66.
One of the best broadcasters in Britain, and such a smart, funny, warm & generous-spirited man. Fought his illness with typical stoicism, courage and humour. Bill made presenting live TV look so effortless, which was his great talent. Such sad news. pic.twitter.com/8MLEgwyY4v

— Piers Morgan (@piersmorgan) September 1, 2022
Very sorry to hear of the death of my former colleague Bill Turnbull. He was charming and relaxed, and managed to combine being a clever, sharp reporter with sympathetic understanding as an interviewer. And he faced a vicious disease with great courage.

— John Simpson (@JohnSimpsonNews) September 1, 2022
Bill Turnbull was so kind and generous when I took over from him on BBC Breakfast. He was full of brilliant advice and it was clear just how loved he was by his colleagues and the audience. It was an honour to sit on his sofa.

My thoughts are with his family and friends.

— Dan Walker (@mrdanwalker) September 1, 2022
Sadly Bill Turnbull has passed he was a great presenter and a nice guy R.I.P

— Lord Sugar (@Lord_Sugar) September 1, 2022
Absolutely gutted that our Bill Turnbull has passed away.

A fantastic broadcaster and a brilliant friend….I learnt so much from him. And we had some cracking arguments about how you should pronounce words like 'poor'🥰

We all loved him💔 #RIPBill https://t.co/sdG2wXCZzg

— Steph McGovern (@StephLunch) September 1, 2022