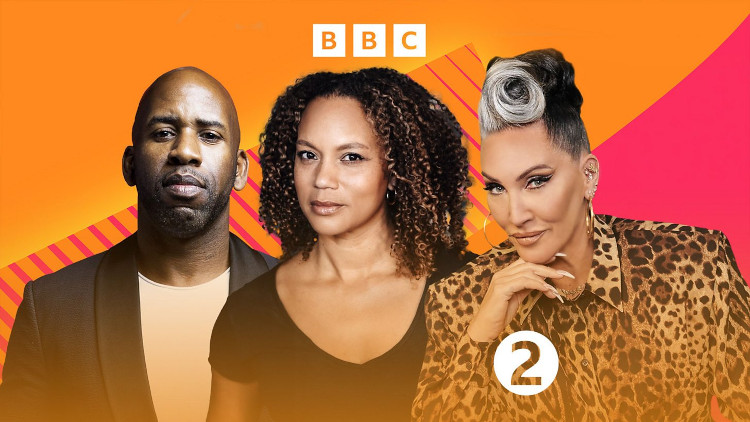 Weekend schedule changes on BBC Radio 2 include time changes for Tony Blackburn and Johnnie Walker, plus new shows for Angela Griffin, DJ Spoony and Michelle Visage.
The changes across Fridays – Sundays from Friday 15 July will see Tony Blackburn's Golden Hour move to Sunday nights (7pm-8pm) and The Rock Show with Johnnie Walker move from Saturday night (8-9pm) to the more traditional late night rock show slot of Friday nights (11pm-midnight).
Sounds of the 80s with Gary Davies will move from its current Friday night slot (8pm-10pm) to Saturday nights (8-10pm) and Sounds of the 90s with Fearne Cotton is also on the move from Friday night (10pm – midnight), to Saturday night (10pm – midnight).
Michelle Visage will be presenting her own show each Friday night (7-9pm). Michelle, who grew up in New Jersey, is a vastly experienced radio presenter, having hosted breakfast shows in the US for over 17 years for stations including WKTU and WNEW FM in NYC and Hot 92 Jamz in LA. She's already familiar to Radio 2 listeners as she's fronted one-off specials including her New Year's Eve spectacular as well as deputising for Rylan, Dermot O'Leary and Elaine Paige on Sunday.
Michelle will also return with series two of her BBC Sounds podcast, Michelle Visage's Rule Breakers in August, which sees her sit down for more one-to-one encounters with famous faces to hear stories that inspire us. The show will also be broadcast on Radio 2 on Saturdays.
Michelle says: "I'm over the moon to be broadcasting my very own show to millions of listeners on Radio 2, where each Friday night I'll be launching the listeners' weekends in fabulous style with some of my all time favourite tracks that promise to get you in the best mood! And I'm back with a new series of my Rule Breakers for BBC Sounds – I'M SO EXCITED! Bring it all on!"
The Good Groove with DJ Spoony, which ran as a four part series on Radio 2 in January, will return as a weekly show every Friday night (9pm-11pm). Spoony will be raiding the dance music vaults of the past 60 years for a Friday night set of classic soul, Motown, Philly, R&B, soul, garage and hip hop. DJ Spoony has also covered recently for Trevor Nelson's Rhythm Nation as well as Craig Charles' House Party.
With his Dreem Teem partners Mikee B and Timmi Magic, he joined Radio 1 in 2000 to bring UK garage to a national audience, subsequently winning a Sony Award later that year. He was also the host of Radio 1's Weekend Breakfast show between 2003 – 2006 at the same time as a six year stint presenting BBC Radio 5 Live's football phone-in '606'.
DJ Spoony says: "I'm so excited to be launching my very own show on Radio 2 on Friday nights in July. Whether you're having a great night in or getting ready for a brilliant night out, join me for the best dance and party tracks I can find as we make Friday night, party night!"
Angela Griffin will host Radio 2 Unwinds, a Sunday night show (10pm-midnight) with blend music from Morcheeba to Moloko, Bruno Mars to Billie Holiday, Gladys Knight to Gregory Porter, Air to Zero 7 and more. The second hour of the show will be the Radio 2 Unwinds Mixtape, that listeners can tune in to at any time on BBC Sounds.
Angela is familiar to listeners following the first four part series of Radio 2 Unwinds last summer and she's also covered for Steve Wright on Sunday Love Songs. She hit the big time at the age of 16 by joining Coronation Street, and winning a National Television Award for Best Newcomer. Angela went on to star in many successful TV dramas including Cutting It (BBC), White Lines (Netflix) and Lewis (ITV). Angela has co-presented The One Show, hosted her own chat show Angela & Friends and presented live from the red carpet at both the Golden Globes and The Academy Awards.
Angela Griffin said: "I'm over the moon to be given my very own BBC Radio 2 programme. I loved presenting my series last year as I was already a huge fan of the station, so I'm proud to be given my first proper weekly show. I'll be bringing two hours of chilled out tunes curated by myself and the listeners, to help unwind and relax before the week ahead."
Craig Charles' House Party (Saturday, 10pm–midnight) and Ana Matronic's Dance Devotion (Sunday morning, midnight-2am) shows, as well as Dr Rangan Chatterjee's show (Sunday 10pm-midnight) will come to an end. Craig can still be heard on BBC Radio 6 Music each weekday (1-4pm) and The Craig Charles Funk and Soul Show (Saturday nights, 6-9pm).
Craig says: "Every party must come to an end and although I'm packing up my Trunk of Funk on Radio 2, I've loved bringing the party to its funky listeners each Saturday night."
Ana says: "It's been a pleasure and a privilege to be part of the Radio 2 line-up for the last five years. To be able to represent dance music culture, history, and community is an honor that I will continue to devote myself to. To all my listeners I wish the very best, and hope to see you on a dance floor very soon!"
Dr Rangan says: "I've immensely enjoyed presenting my Radio 2 show, and I hope I've helped guide listeners through a unique time in our lifetime."
The regular one hour documentaries/music genre slot will move to a new home of Friday into Saturday (midnight – 0100) and, as ever, all programmes can be heard at any time on BBC Sounds.
New amended schedule from Friday 15 July:
Friday
7pm-9pm Michelle Visage.
9pm-11pm The Good Groove with DJ Spoony.
11pm-midnight The Rock Show with Johnnie Walker.
Saturday
Midnight – 1am – documentaries/music genre
3am-4am Michelle Visage's Rule Breakers.
8pm-10pm Sounds of the 80s with Gary Davies.
10pm-midnight Sounds of the 90s with Fearne Cotton.
Sunday
7pm-8pm Tony Blackburn's Golden Hour.
8pm-10pm Sunday Night is Music Night.
10pm-midnight Radio 2 Unwinds with Angela Griffin