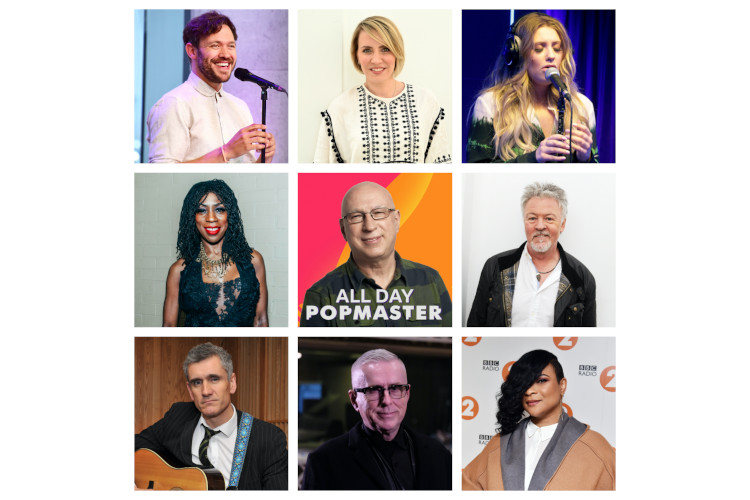 On his BBC Radio 2 show today, Ken Bruce revealed the eight platinum-selling popstars who will be going up against the eight members of the public for Radio 2's All Day Platinum PopMaster.
The special edition of the popular radio quiz is part of Radio 2's Platinum Jubilee celebrations and will take place across this Thurday, 2 June.
The celebrity contestants for All Day Platinum PopMaster are Gabrielle, Ella Henderson, Paul Young, Curtis Stigers, Heather Small, Holly Johnson, Will Young and Claire Richards.
From 7.30am, when Gary Davies presents The Radio 2 Breakfast Show, PopMaster will be played every hour on the half hour, hosted by Ken Bruce, and continues through to 5.30pm.
The four top-scoring winners from eight initial heats will then play in two semi-finals for a place in the 'All Day Platinum PopMaster Grand Final' at 5.30pm… and a shot at winning the coveted glass trophy.
Speaking on air this morning about the All Day Platinum PopMaste, Ken said: " It's all part of Radio 2's Platinum celebrations. Don't worry we're not having 70 rounds of PopMaster – instead, it's eight heats, eight members of the public will take on eight platinum selling popstars. From 7.30am, we'll be playing PopMaster every single hour on the half hour. I will be interrupting every other presenter's show during that time whether they like it or not – I'm guessing not! "
After Radio 2 listeners easily swept aside their music DJ challengers in the first ever All Day PopMaster back in 2020, last year saw TV's favourite quiz brains strike back for the celebs, with The Chase's Jenny Ryan beating Eggheads' Jeremy Vine in the final.
Gabrielle said: "I know a bit about 80s pop and 90s pop… but probably not as much as I should…. but I'm up for a laugh!"
Ella Henderson said: "I'm looking forward to being part of All Day PopMaster on 2nd June. Not sure how this is gonna go, but I'm up for the challenge! Bring on the PopMaster quiz!"
Holly Johnson said: "Oh I'm so looking forward to chatting with Ken, the most soothing voice on Radio 2. PopMaster is like Mastermind on the radio; it's a weekday reminder of how little I know about pop music."
Claire Richards said: "I can't wait to be part of All Day PopMaster on June 2nd, but really hope I don't let myself and the country down! Crossing my fingers for a question about the Carpenters or anything 80s onwards!!'
Heather Small said: "I am so happy to asked to take part in All Day PopMaster with the wonderful Ken Bruce, to kick off the Platinum Jubilee. It's not about winning, it's about taking part so make sure you tune in and let's have some fun."
Curtis Stigers said: "I suspect my nationality and my advanced age will work against me, but my will is strong, my mind is still mostly intact, and I'm not afraid to cheat if necessary. I am PopMaster, hear me roar!"
Paul Young said: "I pride myself on knowing massive amounts of trivia and pop knowledge, so I'm hoping to sail through this, the hardest quiz of all; PopMaster! If I win, my prize will go in the centrepiece of my awards bookcase. I take it there is a chrome statuette to be won?! Anyways, be sure to tune into All Day Popmaster on Thursday, the 2nd June. By the way, I'm useless at 60s and 70s trivia (wink wink) so none of those please…"
Will Young said: "It is a dream come true, as an avid listener of PopMaster, to finally become a contestant. My 90s RnB pop is exemplary, everything else is rubbish – but as long as I get a 'one year out' t-shirt and a signed Ken Bruce headshot, I'll be happy!"