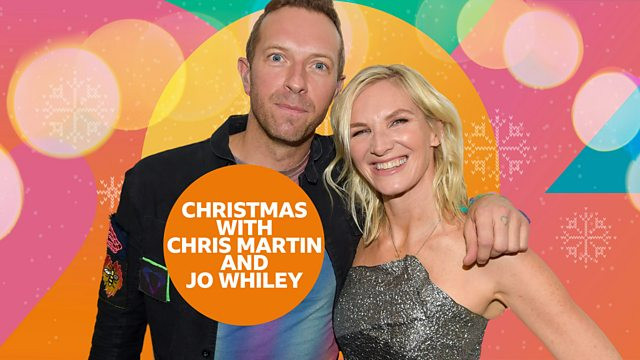 On BBC Radio 2 this evening, Jo Whiley celebrated 'Christmas with Chris Martin' where the Coldplay frontman joined her to co-host her show with festive chat and Chris playing his favourite yuletide tunes.
Among the songs he chose, were Ella Fitzgerald's Have Yourself A Merry Little Christmas, East 17's Stay Another Day, Shine Bright Like A Diamond by Rihanna and In The Bleak Midwinter.
During their discussion, Chris told Jo that it's not just Christmas he's excited about but life in general. "My kids' mum and my partner are really good at it [Christmas]," says Chris, "so I just pay for what I'm told to pay for. That's it, yeah," he laughs.
He says he loves Christmas Eve and still has the same routines he had at the age of around seven years old. "I make sure that Santa or Father Christmas as we call him, that the access is good for him and all clear and he's got the right snacks and stuff lined up," he says and adds, "Nowadays I leave some sort of pastry goods and a glass of something with alcohol in it and always he eats it and drinks it and also he often leaves footprints if we happen to be somewhere with a fireplace, often in the morning he's left a footprint!" (Yes of course Chris!!!)
Jo asked if Coldplay would do another Christmas song? Chris replied: "No… I feel like for us we did one and we really love it, unless something naturally happens.
"We wrote a Christmas song for Kylie, but I don't think anyone really liked it…. I don't think it was a dud, but one of those ones that went by the wayside… I don't think it caught anyone's imagination, which is fine."
When Jo asked him about his plans for Christmas, he answered that he doesn't know, as he's waiting to be told where to be, but he won't be cooking. "I'm not a great cook. I've cooked twice in the last ten years and both times the Fire Brigade came and I'd like to send a shout out to them in North London Fire Department who've saved me twice. The second time they came and asked have you been cooking again?"
Chris ended the show by telling listeners: "We should end by saying it's been an amazing year on the Jo Whiley show. We thank you for your listenership, we hope you're ok, we send you all our love.
"We hope your Christmas is good. Don't worry about all the difficult relatives, everyone has them. Don't worry about the depression that might come the day after of something – that's normal, you have to have the lows to have the highs.
"Don't forget to watch Back To The Future. Always listen to Ella Fitzgerald once, but preferably twice. We love you. Jo loves you. Merry Christmas."
And a Merry Christmas to you too Chris!!