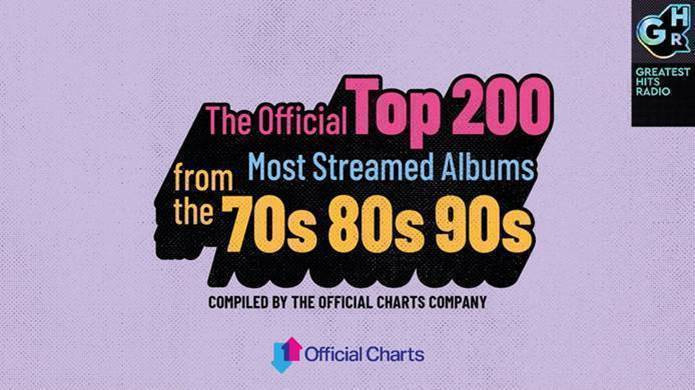 As music fans across the world recently commemorated Freddie Mercury 30 years on from his tragic death, his much-loved band Queen have once again re-affirmed their enduring appeal after their 'Greatest Hits' album topped a brand-new chart.
This must-own album for any music fan includes the timeless classics 'Crazy Little Thing Called Love', 'Another One Bites The Dust', 'We Will Rock You' and arguably the finest track ever written 'Bohemian Rhapsody'.
The compilation is officially the most-streamed album from the 70s, 80s or 90s according to a new ranking compiled by the Official Charts Company exclusively for Greatest Hits Radio.
In a radio first, the chart revealed the Top 200 albums across the three decades since UK streaming data began.
Running across the weekend on Greatest Hits Radio, the final Top 40 was revealed by Simon Mayo yesterday afternoon (Sunday 28 November).
The countdown also celebrates one year of the Simon Mayo Album Show which showcases albums of the 70s, 80s and 90s every Sunday.
Fleetwood Mac's 'Rumours' took second place, but their seminal record was also the highest ranked studio album. Released in 1977, it featured a number of the band's biggest hits including 'Dreams', 'Go Your Own Way' and 'Don't Stop'.
Oasis album 'What's the Story Morning Glory' debuted at third place and as the highest album of the 90s, while 'Definitely Maybe' placed sixth overall.
Just behind Oasis was Abba's 'Gold – Greatest Hits' who prove as popular as ever after celebrating the success of 'Voyage' their first album in 40 years which entered the Official Albums Chart at Number One on its release earlier this month.
Oasis weren't the only act to have more than one original album in the Top 40. Bob Marley, Michael Jackson and Nirvana each also had two studio albums in the list while Meatloaf boasted three.
The Top 40 showed a broad range of albums across the decades with the earliest being 1970's album 'Bridge Over Troubled Water' by Simon & Garfunkel. That entered the chart at #28, 17 places behind Dr Dre whose 1999 album – confusingly named '2001' – was the most recent album to chart.
Greatest Hits Radio presenter Simon Mayo said: "As the first chart of its kind, this is a fascinating insight into the albums that resonate the most with audiences today. From the Stones to Springsteen, these are the records that have really stood the test of time."
Lauren Kreisler, Head of Brand & Digital at the Official Charts Company added: "What an outstanding weekend of programming this has been! It's one thing to have a hit record in the 70s, 80s or 90s, but for these albums to find relevancy and a whole generation of new listeners through streaming platforms all these decades later…that's how you know you've got a classic on your hands. Thank you to Greatest Hits Radio for teaming up on a truly unique Official Chart countdown."
It's official! @QueenWillRock 'Greatest Hits' is the MOST STREAMED album of the 70s, 80s & 90s ?
It's the first album ever to hit 6 million UK sales, no other album has beat them yet! pic.twitter.com/bcPbKDdNwH

— Greatest Hits Radio (@greatesthitsuk) November 28, 2021
The Top 40:
| | | | |
| --- | --- | --- | --- |
| Pos | Title | Artist | Year |
| 1 | GREATEST HITS | QUEEN | 1981 |
| 2 | RUMOURS | FLEETWOOD MAC | 1977 |
| 3 | WHAT'S THE STORY MORNING GLORY | OASIS | 1995 |
| 4 | GOLD – GREATEST HITS | ABBA | 1992 |
| 5 | LEGEND | BOB MARLEY & THE WAILERS | 1984 |
| 6 | DEFINITELY MAYBE | OASIS | 1994 |
| 7 | THE STONE ROSES | STONE ROSES | 1989 |
| 8 | HOT ROCKS – 1964-1971 | ROLLING STONES | 1971 |
| 9 | 1967-1970 | BEATLES | 1973 |
| 10 | EXODUS | BOB MARLEY & THE WAILERS | 1977 |
| 11 | 2001 | DR DRE | 1999 |
| 12 | BAD | MICHAEL JACKSON | 1987 |
| 13 | THE VERY BEST OF | MARVIN GAYE | 1996 |
| 14 | IN UTERO | NIRVANA | 1993 |
| 15 | GREATEST HITS | BRUCE SPRINGSTEEN | 1995 |
| 16 | THRILLER | MICHAEL JACKSON | 1982 |
| 17 | NEVERMIND | NIRVANA | 1991 |
| 18 | BACK IN BLACK | AC/DC | 1980 |
| 19 | GOODBYE YELLOW BRICK ROAD | ELTON JOHN | 1973 |
| 20 | GREATEST HITS | 2PAC | 1998 |
| 21 | GREATEST HITS | SIMON & GARFUNKEL | 1972 |
| 22 | VOULEZ-VOUS | ABBA | 1979 |
| 23 | THE LION KING | ORIGINAL SOUNDTRACK | 1994 |
| 24 | HEAVEN AND HELL | MEAT LOAF & BONNIE TYLER | 1989 |
| 25 | APPETITE FOR DESTRUCTION | GUNS N' ROSES | 1987 |
| 26 | BAT OUT OF HELL 2 – BACK INTO HELL | MEAT LOAF | 1993 |
| 27 | EXPERIENCE HENDRIX – THE BEST OF | JIMI HENDRIX | 1997 |
| 28 | BRIDGE OVER TROUBLED WATER | SIMON & GARFUNKEL | 1970 |
| 29 | DIVINE MADNESS | MADNESS | 1992 |
| 30 | THE DARK SIDE OF THE MOON | PINK FLOYD | 1973 |
| 31 | GREATEST HITS | POLICE | 1992 |
| 32 | THE IMMACULATE COLLECTION | MADONNA | 1990 |
| 33 | THE JOSHUA TREE | U2 | 1987 |
| 34 | THE PLATINUM COLLECTION | BLONDIE | 1994 |
| 35 | HATFUL OF HOLLOW | SMITHS | 1984 |
| 36 | CALIFORNICATION | RED HOT CHILI PEPPERS | 1999 |
| 37 | KAYA | BOB MARLEY & THE WAILERS | 1978 |
| 38 | STICKY FINGERS | ROLLING STONES | 1971 |
| 39 | 1962-1966 | BEATLES | 1973 |
| 40 | BAT OUT OF HELL | MEAT LOAF | 1977 |