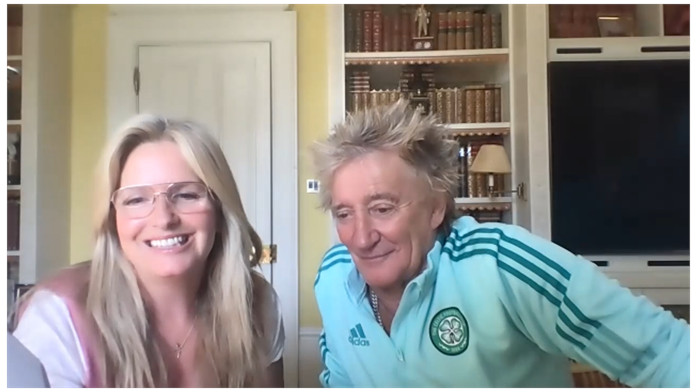 Rod Stewart and Penny Lancaster joined Magic Radio for Prince's Trust Day today (6th October), talking about Rod's upcoming album, Penny's work as a special constable and what embarrasses their kids at the school drop off.
The station has supported The Prince's Trust for over 12 years and this special day helps to raise awareness of the issues young people are currently facing across the UK, especially since the pandemic.
Speaking to Magic Radio breakfast presenters Ronan and Harriet, Rod and Penny joined in on the show's school run feature revealing how their family's very own school run usually goes, which included a not so popular choice of car. "It's chaos, they're never on time." said Rod. "I mean my son today, the 15-year-old, fifteen minutes late today coming down and he comes down and I was going to take him in the Lamborghini 'dad you can't take me in that, you're not going in that dad'.
"It's funny because the youngest boy loves it, 'dad pick me up in the Ferrari, or pick me up in the Lamborghini', he loves it but the eldest one hates it."
Penny revealed how she took to the streets during lockdown, after taking on eight months training to become a special constable for the police. She is now out on the street once a week.
"I did it initially as a TV show a couple of years ago working with the Peterborough police and I just love the experience so much and what's wonderful about working with charities is as Rod said it's that sense of giving back and feeling how lucky we are, we want to do something but it never feels enough.
"Somehow working with the police you feel like you will make a difference every day if it's tangible, you have got your feet on the ground, you are interacting with the public, you are dealing with whatever comes your way." commented Penny.
Although Penny loves being out on the street, Rod admitted he finds it worrying when she is working, "I don't sleep, I don't sleep when she's out on the beat. Until I know she's safe in the car," he said.
The multi award winning musician also chatted to Magic about his new album 'The Tears of Hercules' which has recently had some speculation around the title with Hercules being Elton John's second name.
When asked if the title was a nod to the singer Rod said: "It was only recently I realised that his second name was Hercules. But I didn't, I didn't know and the reason for the title, it's quite thought provoking but a strong man can cry and should cry if he feels necessary."
Magic Radio will have a variety of guests across the station to celebrate The Prince's Trust Day, including other charity Ambassadors Rob Brydon, Craig David, Joanna Lumley, Konnie Huq and Harry Redknapp.
The station will also be talking to some of the service users who have benefitted from the work the charity does.