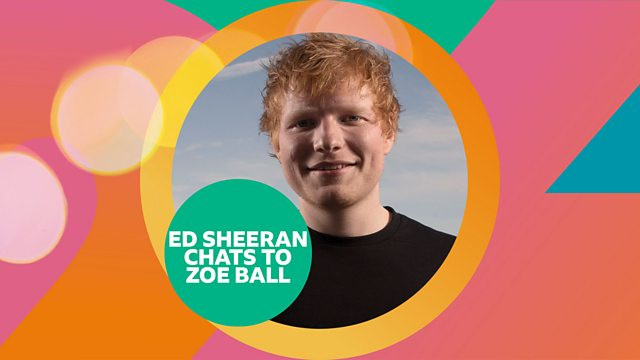 Ed Sheeran gave millions of Radio 2 listeners an exclusive taste of his new Christmas 2021 single on the Zoe Ball Breakfast Show this morning.
Confirming to Zoe that he is releasing a Christmas single with Elton John, Ed then broke into a performance, singing live from home, just with his guitar, unaccompanied by backing soundtrack.
"It's the first time that much has been heard," said Ed, "it's definitely got loads of sleigh bells on it and will sound a lot more Christmassy than that, but that is a tiny hint of the song."
On the day his new album, = is being released, Ed was on the show from home as he is in self-isolation after suffering a bout of Covid19.
Zoe asked him how he was doing, to which he replied: "I think I'm getting to the other side of it. The beginning of the week was pretty gnarly but I just drunk a lot of water and slept a lot and had all the vitamins that the doctor told me to have.
"But yeah, it's the first time I didn't stay up for an album release. I tried and then I was just like, 'you know what I need some sleep and went to bed and got a good night's sleep' and I was up bright and early."
Zoe thanked him for coming on the show, even though he's been poorly.
"You know what I hate letting people down," Ed responded, "if I've said I'm going to do something, I have to do it. So thank you for letting me on even though I can't be there in person."
During the hour he spent with Zoe, Ed revealed the first time he picked up a guitar was at 11 years old after hearing Eric Clapton playing Layla at the Queen's Golden Jubilee. He said: "I thought, that's what I want to do and went to Cash Converters a couple of days later and bought a guitar and tiny amp."
When talking about the new Christmas song, Zoe reminded him that the first time he'd talked about it, Elton John had said that Ed wasn't supposed to mention it!
Ed explained: "I find it very difficult to lie, so if someone asks me a question, I answer them unfiltered."
Prompted by Zoe, Ed then picked up his guitar and gave a quick preview of the song – you can see the video here.