Alexander performs at St Paul's - Photo: Matt Crossick
Classic FM presenter Alexander Armstrong has completed an incredible 24 concerts in 24 hours to raise money for disadvantaged people across the UK.
The classical singer, whose challenge started at midday on Thursday (30 September), performed 24 concerts in and around London in front of thousands of people for Global's Make Some Noise, which supports small and local charities across the UK.
As the clock struck 12pm yesterday, Alexander began the marathon with the classical ensemble VOCES8 in central London, before busking at Piccadilly Circus underground station.
He took to the water for a special concert on a River Thames boat and then headed across the city to give concerts at locations including St. Paul's Cathedral, The Queen's Chapel of the Savoy, Cadogan Hall and a construction site.
Early on Friday morning, he treated airport workers to a moonlit performance of 'Fly Me To The Moon' on the tarmac of London Luton Airport.
As the day dawned, he headed to Wembley Stadium, where, due to a torrential downpour, he gave a concert in the players' dressing room, rather than on the iconic turf.
He then sang a rendition of 'Nightingale' for some new four-legged friends at Belmont Farm in north London, dropped into a local school to join the children for their Friday assembly and raced back to the city for a performance of 'Supercalifragilistic' with the dementia charity Forget-Me-Not Chorus.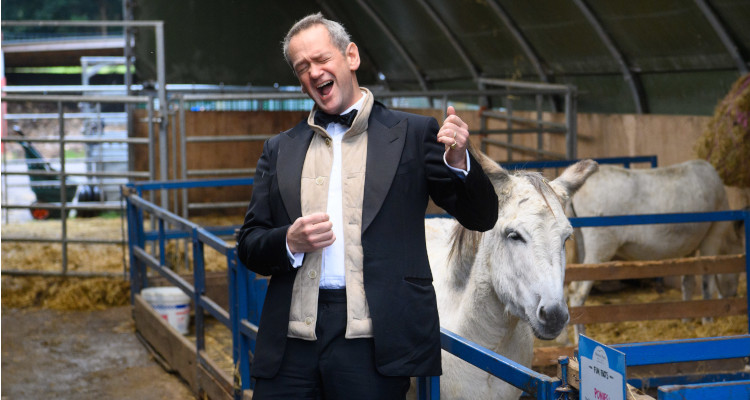 With the clock ticking down to the final minutes of his 24-hour challenge, he joined classical guitarist Miloš Karadaglic in the Classic FM building in Leicester Square for the finale, 'Let It Be'.
Following his exhausting music marathon, Alexander said: "It has been a truly wonderful and invigorating experience and one of the days that I will treasure forever.
"It was a privilege to perform at some brilliant and bizarre places from a construction site, a farm and the apron at Luton Airport to St Paul's Cathedral, the Britten Theatre at the Royal College of Music and The Queen's Chapel of the Savoy.
"Most of all, thanks to the enormous generosity of Classic FM listeners, we have raised thousands of pounds for Global's Make Some Noise. By supporting hundreds of small charities right in the heart of local communities, we will make a massive difference to people's lives across the UK and that's what I love."