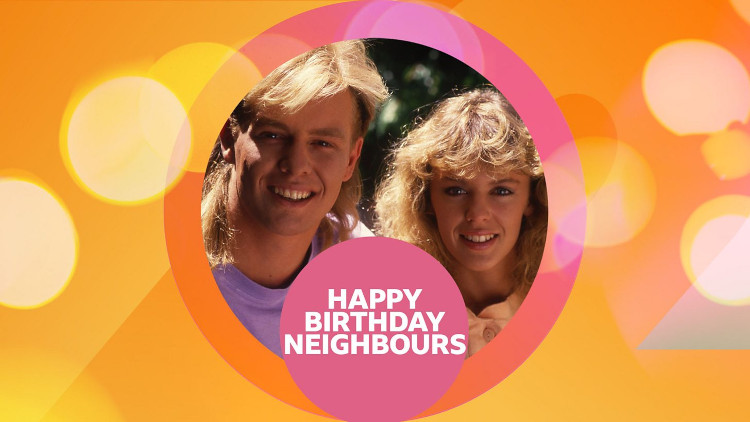 This Bank Holiday Monday on BBC Radio 2, Neighbours superfan Scott Mills will celebrate 35 years since the show made its British TV debut.
In the 3-hour programme, Scott will be joined by some of the biggest stars to have ever appeared on Ramsey Street with a few surprises along the way.
There will be a chance for listeners to test their knowledge against Neighbours superfans, enjoy a Kylie and Jason Mastermix, and join in a nationwide singalong of the show's classic theme, with its original performer, Barry Crocker, leading the way.
Scott is a huge fan of Australian soaps, particularly Neighbours and he's inviting everyone to take a nostalgic walk down Ramsey Street – the most famous street in Australia, which was first broadcast to UK audiences on BBC One in October 1986.
Throughout the show he'll be knocking on the doors of some very well-known 'Neighbours', reminiscing about their time on the street.
In addition to hourly quizzes, there will be a Neighbours-related playlist, including classic hits by Holly Valance, Natalie Imbruglia, Craig McLachlan, Jason Donovan and – of course – Kylie Minogue… plus some, perhaps, not-so-classic hits.
Big stars who made Street cameos will receive honourable mentions, including Lily Allen, Pet Shop Boys, Matt Lucas and David Walliams, as well as those who got their big break in Ramsey Street, such as Russell Crowe, Liam Hemsworth and Margot Robbie.
Scott will invite listeners to join in the singalong version of the original Neighbours theme tune, as sung by Barry Crocker, to end the show.
Scott Mills: Happy Birthday Neighbours! will air on BBC Radio 2 Monday 30 August 2-5pm.
You'll also be able to hear a special hour-long Neighbours playlist curated by Scott on BBC Sounds from Saturday 28 August.