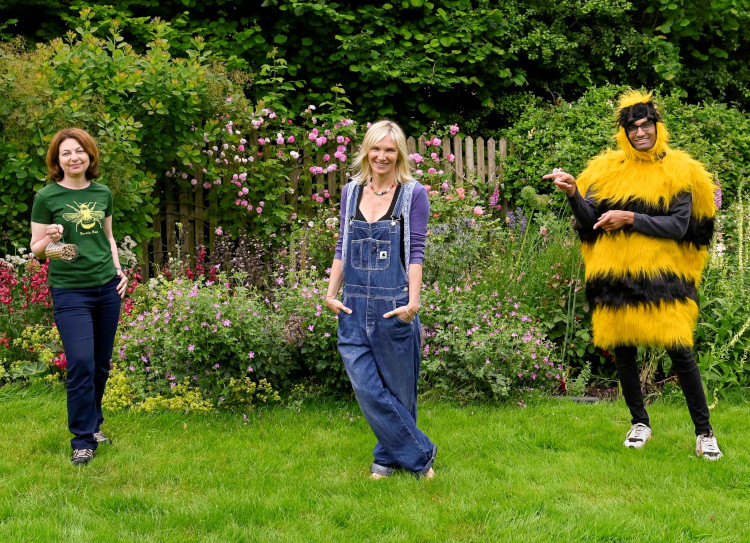 Photo Credit: James Watkins/BBC
Earlier this morning during Zoe Ball's Breakfast Show on BBC Radio 2, her traffic and travel reporter Richie Anderson was out and about for his weekly Friday outside broadcast as the station's bee challenge continues.
Crossing to Richie near the start of the show, Zoe asked: "What can you tell us, I can hear birds tweeting?"
Richie described the setting, telling Zoe: "It's gorgeous here but I need to be very quiet because the person I'm visiting is a family person and the family are all asleep." He gave out a few clues as to where he was and, of course, continued reading the travel news.
Eventually it was revealed that Richie was in Jo Whiley's garden. They were also joined by bee expert and author Alison Benjamin who was giving Jo – and the listeners – lots of tips on how to encourage more bees to visit the garden.
She talked about the types of flowers they love, took Jo on a bee safari around her flowerbeds to see how many different types of species of bee were visiting the garden, and showed her how to make a homemade bee hotel.
Jo said, "I was in the borders the other day and everything was buzzing around my head, there was so many different bees. I think I was doing something with my salvias and I thought how brilliant that I'm here – I used to be petrified of bees and now I'm just working with the bees and for the bees and I wasn't threatened at all!"
Radio 2's Big Bee Challenge has been going on across June until August, featuring tours of well-known face's gardens and outdoor spaces to find out how bee-friendly they are and giving them tips on what they can do to make them a haven for our flying friends.
There's also a competition for children aged 6 – 12 years old as part of the challenge, to design a garden that will attract bees and other pollinating insects, with the winning design being built at an NHS Trust site which is used by children and young people with mental health needs. The closing date for the competition is this Monday, 5 July – you can find out more HERE.